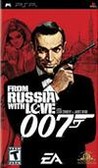 Summary:

Set in the original 60's Bond era, the game features movie-based missions as well as original, action-intensive sequences, a broad and deep variety of gameplay, fully-integrated vehicles, social multiplayer experiences, gorgeous women, and classic, upgradeable weapons and gadgetry with moder

n mechanics. Players will create and manipulate Bond in a living world based on the timeless fiction of the classic James Bond movie. Invest in your character and customize the ultimate Bond for a whole new level of gameplay options. Sean Connery, the original Bond, reprises his role as the dapper Mi6 agent in this innovative, retro-styled and highly anticipated console title from the infamous Bond franchise.

…

Expand
Developer:

Rebellion

Genre(s):

Other Shooters

# of players:

1-6

Cheats:

On GameFAQs

Rating:

T
It looks good, it plays good, and it does handheld multiplayer as well as anything out there. Bond and PSP make perfect bedfellows. [Apr 2006, p.107]

One of those games that doesn't set out to have any huge impact on game design or execution. It does however make sure that what it puts forth is solid and entertaining.

Game play can become repetitive quickly, so only those who dream of joining Her Majesty's Secret Service, or implicitly trust the quality of EA games need apply.

From Russia With Love is a perfect example of how not to port a game from the PS2 to PSP. It does absolutely nothing new and a host of things much worse.
This is a really fun game and I'm not saying this because I work EA - it's just as good if not better than every PSP game out there

right now.

…

Expand

This isn't a bad shooter for the PSP. The graphics are what you should expect for a PS2 to PSP port, the controls are well done (only co

mplaint is the camera rotation is a little bit slow at times), and the gameplay is solid. It's not SOCOM (the best PSP shooter available), but it's a very good game to play if you didn't play the console version.

…

Expand