Publisher:

Mastiff

Release Date:

Feb 12, 2007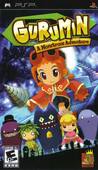 Summary:

Gurumin stars a strong-willed girl named Parin, who is sent to live with her grandfather in a small mining town while her parents are off excavating an ancient ruin. With no other children living in this town, Parin is surprised one day to encounter a young girl being tormented by a stray do

g. After Parin drives off the mongrel, she is shocked to discover the young girl is actually a monster, and like all monsters, invisible to adults. Parin is soon invited to pass through a crack in the wall behind her home and enter Monster Village. Parin has just started making monster friends when evil spirits, known as the Phantoms, invade the village and monsternap most of the inhabitants. Parin soon learns of the Legendary Drill, a weapon hidden underneath the village and, in the right hands, powerful enough to destroy the Phantoms. Thus begins Parin's quest to reclaim the Legendary Drill and set the world right. Features Non-linear game play set in vast world with a variety of stages in different environments. 23 non-player characters, 48 unique enemies, and over 90 items to collect. Destroy everything in your path with your legendary drill: almost all objects are destructible, and many hide money and valuable items. [Mastiff Games]

…

Expand
Developer:

Falcom

Genre(s):

Role-Playing

# of players:

1 Player

Cheats:

On GameFAQs

Rating:

E10+
With an all-star voice cast and an overall wonderful gameplay experience, I heartily recommend Gurumin: A Monstrous Adventure to anyone looking for a game for their kids or looking for a good action-RPG for the PSP.

Easily one of the most enjoyable and surprising adventure games to grace the PSP, Gurumin is one of those rare treats that are fit for gamers of all ages.

Once every few years, a game comes along that changes all the rules. A game so unique and so groundbreaking that it not only redefines a genre, but redefines how we as gamers connect with our world. This ... is nothing close to that kind of game. But damn if it isn't fun.
I love this game! I want to be Parin, I want to be there, I want to meet the monsters, I want to talk to them. Can't believe the charact

ers feel so real. They'll grab your heart within 20 minutes!

…

Expand

This game is fantastic. I just bought it and I've played it for two hours non stop. The music is fun, the graphics put my psp to work, t

he storyline is interesting, the main character is adorable, and the style is addicting. Best psp game I own. I love the ability to free roam. The only downfall is that it's too easy at times, but there are upgrades for weapons and lots of cool special moves and combos.

…

Expand

Without a doubt the best Action RPG on the PSP. Beautiful graphics, great sound, lots of depth, well balanced. Resorted my faith in the PSP.

okay - I got hooked. I didn't think I would, I really didn't. But damn, the whole thing is so cute and endearing! I'm not a ha

rdcore gamer by any means, but I like my share of stuff like Metroid Prime, etc. And the little things in this game, the little quips here and there show an underlying humor and a love for what they were making. I normally get turned off by the over-Anime style of things, but here - the localization actually works and the humor is smart and enjoyable. The camera makes me want to punch a hole in the wall most of the time, and yes - there is button mashing to be had, but I don't think it's "easy" nor do I think it's "simple". It's fun. Try saying that for MOST PSP games out there, you'll have a hard time.

…

Expand