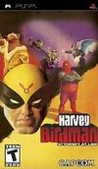 Summary:

Harvey Birdman: Attorney at Law is a fully animated interactive adventure game that merges the fun and mayhem of the popular Adult Swim TV show with Capcom's unique style of gameplay. Players step into the shiny wingtips of Harvey Birdman, a third-rate superhero turned third-rate defense att

orney charged with exonerating parodied classic cartoon characters. Over the course of the game, players must guide Harvey through a series of odd and comical cases. Each of the game's five interactive stories takes the winged crusader of justice to familiar locations from the TV show. In order to prove his client's innocence, Harvey must peruse the scene of the crime, gather evidence, talk with other cartoon characters, occasionally have drinks with opposing council, and of course, tear holes – no matter how ridiculous – in the testimony provided by the witness for the prosecution. Harvey must bring the whole story together to defend his client in a court where anything can happen... including a confrontation with the prosecution who brandishes a Shrink Ray Gun. [Capcom]

…

Expand
Developer:

High Voltage Software

Genre(s):

Adventure Games

# of players:

1 Player

Cheats:

On GameFAQs

Rating:

T
Harvey Birdman: Attorney at Law will teach you as much about law as a cartoon will teach you about the laws of physics. Don't take it too seriously, and you'll have a blast.

A very, very solid and semi-interactive version of the cartoon, Harvey Birdman may be as inept in court as the game's namesake, but all of the humor and interesting takes on classic characters come through just fine.

If you're a Harvey Birdman fanatic -- or just a casual fan like myself -- you should probably pick up this game. Sure, it isn't terribly long and it isn't too challenging, but it is a really funny and an engaging play.

The game design, however, is just plain bad.
It makes you feel like part of the show. You have to be a fan of the show to be a fan of this game though. Otherwise, you won't understand it.

Supurb; old characters return, new characters are introduced, good times are had by all. Some people will accuse the game of being 'linea

r', but all adventure style games are linear (this isn't GTA [Grand Trial Attorney?]) and Harvey's game puts in plenty of dialogue choices and extra content to make replaying cases worthwhile. Highly recommended for true fans.

…

Expand

If you loved phoenix wright there's a huge chance you would like this too.

I'm a HUGE fan of the show n i would have to say that the game definately turned out very well. Developed by High Voltage, who have done

alot of cartoon network games, Harvey Birdman is LITTERALLY 5 new cartoon episodes/cases that u interact with, alot like P.Wright but with the hilarity n absurdity of Birdman. Production values r phenominal, voice actors all present except 4 Stephen Colbert (bummer). If ur a fan of da show or like da P.Wright games, give Birdman a whirl.

…

Expand