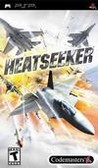 User Score
tbd
No user score yet- Awaiting 3 more ratings
Summary:

Designed to be an incredible lock-on/shake-off experience, Heatseeker reinvents missile combat to give gamers a massive rush of destruction. Featuring collection of current and near-future military fighter jets, Heatseeker's arsenal includes the stealthy F-22 Raptor, the classic F-15 Eagle,

the cutting-edge F35 Lightening II, and the aerodynamically advanced Russian SU-47 Berkut. Heatseeker straps players into the pilot's seat and deliver a white-knuckle ride that'll have them clutching the joypad as they engage in face-melting 6G turns and fight against a seemingly-impossible amount of airborne enemies. And when gamers launch a strike, they follow their missiles as they ruthlessly hone in on their targets via the Impact Cam. Delivering cinematic 3rd-person camera cutaway scenes, the Impact Cam reveals the results of attacks in all their devastating glory from all kinds of dynamic angles, complete with jaw-dropping explosions and smoke trails. With missions across the U.S., down to the Caribbean, across Antarctica and into the Far East, it's high-velocity combat all the way that'll see players constantly switching from predator to prey as an enemy missiles lock on. [Codemasters]

…

Expand
Developer:

IR Gurus

Genre(s):

Combat Sims

# of players:

1-4

Cheats:

On GameFAQs

Rating:

T
A once-fine example of dogfighting laid low by its transition to PSP, Heatseeker isn't bad, but neither is it anywhere near brilliant. [July 2007, p.93]

Up to four players, each with a copy of the game, can have more fun with the five multiplayer modes.

It's not a very deep game; it's kind of ugly, and the story is flat out stupid. But Heatseeker can be fun in small doses--especially if you don't mind taking down wave after wave of enemies, level after level.

It's not that Heatseeker is a horrible game; it just never aspires to be anything more than an average one.