Publisher:

SCEA

Release Date:

May 3, 2005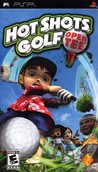 Summary:

(Also known as "Minna No Golf" and "Everybody's Golf") Take on a cast of colourful characters in the coolest clubhouse around. No need for airs and graces here – just select a golfer from a range of friendly faces, and customize their abilities, attributes and appearance before teeing off a

across a series of challenging courses and game modes. Go head-to-head with both friends and foes via WiFi compatible Ad Hoc Mode and become a true golfing legend. Features 6 new courses, classic venues and favourite characters from the ever-popular Hot Shots Golf series. Directly connect PSPs via a wireless network to simultaneously link up with several golfers and take part in gala golf tournaments and challenges. [SCEA]

…

Expand
Developer:

Clap Hanz

Genre(s):

Golf

# of players:

1-8

Cheats:

On GameFAQs

Rating:

E10+
For a truly surreal experience, take Hot Shots out to the course during your next 18, and play a hole or two in between real holes. The only danger there is the rest of your group might become too hooked on what you're doing on Open Tee rather than finishing the real round.

If you have an interest in golf but aren't too bothered about realism and are after a challenge then Hot Shots Golf Open Tee is one PSP launch title you must get.

The game's visuals jump off the screen with incredible colour and the anime inspired characters seem at home on Sony's handheld.

Beyond the already present fans of the series, anyone looking for a fun game that can be picked up, played, and put down at whim, will find what they need here.
This is a great game! Fun and challenging at the same time. Graphics are good & game play is very good.

extremely high replay value, is truely a classic, patiently waiting for a sequal with different course styles. reminds me of mario golf for t

he nes with better grapics. only complaint is that you don't know the wind speed per hole til after tee off.

…

Expand

Fun golf game, funny but the repetive voice overs are annoying.

This version of Hot Shots Golf is a fun and Charismatic game, though at times it can be a little too difficult for a portable golfing game.