Publisher:

SCEA

Release Date:

May 3, 2005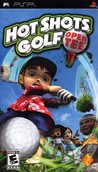 Summary:

(Also known as "Minna No Golf" and "Everybody's Golf") Take on a cast of colourful characters in the coolest clubhouse around. No need for airs and graces here – just select a golfer from a range of friendly faces, and customize their abilities, attributes and appearance before teeing off a

across a series of challenging courses and game modes. Go head-to-head with both friends and foes via WiFi compatible Ad Hoc Mode and become a true golfing legend. Features 6 new courses, classic venues and favourite characters from the ever-popular Hot Shots Golf series. Directly connect PSPs via a wireless network to simultaneously link up with several golfers and take part in gala golf tournaments and challenges. [SCEA]

…

Expand
Developer:

Clap Hanz

Genre(s):

Golf

# of players:

1-8

Cheats:

On GameFAQs

Rating:

E10+
For a truly surreal experience, take Hot Shots out to the course during your next 18, and play a hole or two in between real holes. The only danger there is the rest of your group might become too hooked on what you're doing on Open Tee rather than finishing the real round.

Where the entry really shines, though, is multiplayer. Two-person matches, eight-player tournaments, and two-player miniature golf rounds are all seconds away. Each plays fabulously and really uses the PSP hardware well. [July 2005, p.127]

It's easy to play, looks awesome, and is outright fun. Fore!!!

Proves that comic book golf games can provide lighthearted simulation without sacrificing any vital gameplay technicalities. The PSP has teed off in style with this one. [JPN Import]

With its bite-sized premise, hugely compelling one-more-go appeal and negligible loading times, Everybody's Golf is without question one of our favourite PSP titles.

Definitely buy this if you have buddies with whom to play it. Even if you don't, you just might have enough fun with it to make it worth the $40.

To me, all these unlockables don't mean very much. My guy could be wearing shades, a Speedo and a hat made out of fruit for all I care. Just hit the ball, Spanky.
Really enjoying this - its great fun and kept me very entertained on long plane trips.

This is a great game! Fun and challenging at the same time. Graphics are good & game play is very good.

I don't know why, this game is just addictive.

This owns you... go steal a copy naw mean?

Great gameplay and replay value. Graphics are very nice. You will not be disappointed.

This version of Hot Shots Golf is a fun and Charismatic game, though at times it can be a little too difficult for a portable golfing game.