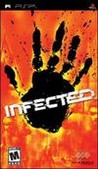 Summary:

It's Christmas time in New York City and a strange virus has appeared turning seemingly normal citizens into the insane, violent Infected. Rookie Officer Stevens is one of the first victims but unlike others, is strangely immune. The mysterious Dr. Schaeffer discovers that Stevens' blood can

It's Christmas time in New York City and a strange virus has appeared turning seemingly normal citizens into the insane, violent Infected. Rookie Officer Stevens is one of the first victims but unlike others, is strangely immune. The mysterious Dr. Schaeffer discovers that Stevens' blood can be used to destroy the otherwise invincible Infected, and creates a special "viral gun" that fills shells with blood from Stevens' arm and blasts them straight into the Infected, causing them to violently explode. Featuring an engrossing single-player campaign with lavishly gory details, Infected unlocks the world of Wi-Fi via exciting multiplayer modes. To participate in multiplayer combat, players create their own character or avatar. Those who are victorious in combat can "infect" the loser's PSP system with their avatar and gain ranking points. Avatars can be defeated through a variety of methods, as well as passed along from player to player thus creating a viral chain letter of attack. Infect the world - spread your unique avatar like a virus to other players' PSP systems via exciting multiplayer modes such as Deathmatch and Team Deathmatch; Form clans with shared uniforms, spreading the same unique virus to the lesser skilled; Set off massive chain reactions of exploding Infected, showering the streets with blood. [Majesco]

…

Expand
Developer:

Planet Moon Studios

Genre(s):

Action

# of players:

2 Online

Cheats:

On GameFAQs

Rating:

M
The online ability to spread an infection to another player is so innovative that this game gets my top award, even if it's not perfect in other areas.

As you can appreciate the humor and enjoy pure arcade shooting, there's really no reason not to pick this game up.

After about 15 minutes of gameplay, our thumbs felt like Robert DeNiro in "Casino" had worked them over in the backroom with a hammer.

Yes, it is repetitive and somewhat light on content, and it doesn't really push the PSP's capabilities, but it is also fun and extremely charming (in a dark, twisted way). Anyone that has been looking for a fast-paced, not-too-complex zombie killing game should definitely check out Infected.

There's no mode, though, where adding human players makes the arcade action more compelling. Whether playing humans or CPU, Infected feels pretty much the same.

The game does have some endearing visuals that manage to put a funny spin on rather grim material.
I finished this game in like 2 days. It does not mean that it is short, it means that it is addicting. Upgrades could have been a bit more

I finished this game in like 2 days. It does not mean that it is short, it means that it is addicting. Upgrades could have been a bit more varied. The gameplay itself is a blast off!

…

Collapse

This game is SO much fun, it reminds me of clasic old school arcade games like Robotron and Berzerk. Great action, great colorful graphics,

This game is SO much fun, it reminds me of clasic old school arcade games like Robotron and Berzerk. Great action, great colorful graphics, excellent voice and sound effects... I can't put the game down. It's by far my favorite PSP game.

…

Expand

Awesome zombie blasting mayhem! And friggin funny too!!! Must get for PSP.

Total classic game feel. The core gameplay is fantastic. Online multiplayer has issues--but this definitely is the multiplayer game of the

Total classic game feel. The core gameplay is fantastic. Online multiplayer has issues--but this definitely is the multiplayer game of the year on the PSP. If you can put up with the crappy servers and lack of infrastructure gameplay modes......don't miss it!

…

Expand

blood i think we all love blood and kill as many you can, one thing i didn't like at all was that is get repetive and it makes you kinda

blood i think we all love blood and kill as many you can, one thing i didn't like at all was that is get repetive and it makes you kinda feel like you do the same mision over and over.

…

Expand

Game is very addictive and challenging.

This game whould have gotten a higher score if I wasn't forced to listen to Nu-metal crap like slipknot until I got a chance to turn all

This game whould have gotten a higher score if I wasn't forced to listen to Nu-metal crap like slipknot until I got a chance to turn all that audio garbage off. At least you can turn it off, but its still one of the worst soundtracks of all in a game, I would have perfered a half-assed midi soundtrack over this.

…

Expand
| | |
| --- | --- |
| | |
| | #37 Most Discussed PSP Game of 2005 |
| | #10 Most Shared PSP Game of 2005 |