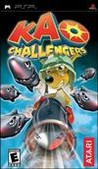 Summary:

KAO, our young cute yellow kangaroo will have to save the world of animals from Barnaba an evil Hunter and his wicked henchmen. This time, he can count on his friends, like the firefly and the parrot, to help him out achieve his difficult task. The evil Hunter has started his cruel

KAO, our young cute yellow kangaroo will have to save the world of animals from Barnaba an evil Hunter and his wicked henchmen. This time, he can count on his friends, like the firefly and the parrot, to help him out achieve his difficult task. The evil Hunter has started his cruel enterprise again. He has set a strong group of his supporters in different lands and with their help captured and traded their inhabitants. His deeds brought a lot of fuss and nervousness to the world of animals. The Hunter's headquarter was established in the Port Town, from where he rules all the lands. Kao starts his adventure locked in a cage travelling in a ship to the Port Town. Luckily during the journey the Parrot finds Kao and destroys his cage so, when the ship docks he manages to escape. Wandering around the Port he meets the Parrot again, which tells him fate of other animals and asks him for help. Kao has to visit all the worlds, helping animals and collecting coins. He needs them to bribe the guardian protecting the Gate leading to Hunter's Headquarters. [Atari]

…

Expand
Developer:

Atari, Tate Interactive, Atari SA

Genre(s):

Action

,

Platformer

,

Platformer

,

3D

,

3D

# of players:

1-4

Cheats:

On GameFAQs

Rating:

E
Kao's latest adventure isn't very innovative or challenging, but it is varied enough to hold a player's attention for an entire weekend.

Koa falls under the "better-than-nothing" category if you're a real platform addict. Overall it's not a bad game but it has the potential to be so much better.

In this age of Director's Cuts and double dips for titles, taking a two year old title and leaving what appears to be inherent flaws in the game design is indefensible.

Official Playstation 2 Magazine UK

It's a shame, as obvious care has been put into a rather cynical and totally unoriginal concept. Some nice touches, but we've basically seen it all before. [Christmas 2005, p.104]

The biggest flaw of the game, what makes it just about unplayable, is the horrific camera and its lack to obey any command you shout at it.

This truly is a game wallowing in the mire of generic, insipid, uninspiring platformers, and unable to see any easy way out. Whenever there is an opportunity for it to do something interesting or different, it disappoints by not doing it and returning to predictable form.
This game is basically Kao the Kangaroo 2, but slightly worse, as the port is rather bad. Worse camera and controls than on PC and that says

This game is basically Kao the Kangaroo 2, but slightly worse, as the port is rather bad. Worse camera and controls than on PC and that says something.

There is a multiplayer mode, but good luck finding someone to play this game with as (I believe) each person needs to have their own UMD disc.

The only remedy factor are the 4 new levels (aka a new world) exclusively designed for this game.
The problem is that the first level of the "new batch" was the only bugged level in my game where certain collectibles simply did not appear and I was unable to finish it 100%. The second level is another chasing level with bad and delayed controls, followed by another gimmick level focusing on sliding, so once again, you'll be having problems with controlling your character. The boss fight is mediocre.

All in all, if you can, play the original Kao 2 and watch the new levels on YT, because they are not worth the price of a full game.

…

Expand