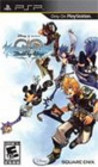 Summary:

Long before Sora was chosen by his Keyblade, the worlds' safety lay in the hands of the true Keyblade Masters. Three youths - Terra, Ventus and Aqua - have been training long and hard under Master Eraqus to prove that they, too, exhibit the Mark of Mastery. But they will soon find themselves

in the middle of a crisis affecting worlds far beyond their own - just as another Keyblade Master, Xehanort, goes mysteriously missing. Three friends, three destinies. Everything will link back to the beginning.

…

Expand
Developer:

Square Enix

Genre(s):

Role-Playing

# of players:

1 Player

Cheats:

On GameFAQs

Rating:

E10+
Exploiting the PSP capabilities nicely, Kingdom Hearts: Birth by Sleep offers a long ride, with the three crossing adventures of its three heroes, and those new, subtle innovations integrated in the gameplay (especially alchemy and the fury moves). This episode is an enchanting one, with a beautiful atmosphere and dynamic gameplay... even though you need need to be in touch with the child within yourself to fully appreciate it.

Birth by Sleep is one of the best games for the PSP. Square-Enix has managed to shape a solid game, long, very nicely finished and highly addictive, especially in the first third of the adventure. The title is absolutely essential for the Sony portable.

Kingdom Hearts: Birth by Sleep isn't just a spin-off; it's an evolution of the series that makes helpful tweaks to combat and introduces interesting new worlds.

If you want a fun action game and don't care about the tale it has to tell, Birth By Sleep is a great choice. If you are a fan of the series, as I reluctantly am, the game is a no-brainer. If you are a PSP Go owner, that is Sony's finger poking you in the eye. No matter which category you fall into, I think you'll agree in hoping Square Enix has some new ideas for the inevitable Kingdom Hearts III, because what they've got now is pretty tired.
Birth By Sleep has a reputation among the fanbase for being the game that "saved the series." While I find the idea that Kingdom Hearts would

go away any time soon a bit silly, it is true that by all gameplay standards that Birth By Sleep is the best entry in the series. It addresses a ton of issues with the prior entries in the series and innovates at the same time. Also, it has the most replay value out of any game in the series, and is the first to have multiplayer. If you have a PSP, you should have this game.

…

Expand

A worthy game in the series after a the misstep that was 358/2 days. The new characters introduced are all great, with the exception of Terra'

s wooden voice acting. The story is very cool and is tied around all three characters. The three characters playthroughs all have the meet up at the beginning, middle and end which isn't a problem but each character tackles the levels in the same order which makes the game feel a bit repetitive. The combat is ripped straight from KH 2 which makes it awesome and although the camera isn't the best it's certainly not as bad as KH 1 or 358/2 days. The game also introduces new locations finally but also keeps some of the ones that have been here since the original like the Hercules world which is a little tiring. The plot does further add to the already confusing mess but is definitely still enjoyable. Overall a fantastic Kingdom hearts game and one of my favorite psp games.

…

Expand

The Good: The game has improved its gameplay, has great graphics for a psp game, decent enough voice acting, and a passable story. The bad:

The only bad thing I would be able to think of is the fact that the board game side quest is awful. No one really truly enjoyed the gummy ship sequences---they're gone...GOOD BYE!! However, the gummy ship sequences were good enough to endure, and the game never punished you for not going out of your way to complete them 100%. However, on "Birth by Sleep," The board game side quests are WORSE than the gummy ship but it would still be passable enough if the game never really forced you to play it. However, most of the important items in the game are only obtainable through this horrid side quests. You still don't have to truly play it, but if you're a gamer who must obtain everything in the game to get 100% completion, this will be more than an annoyance for you. The story, however not as compelling as the main series, it is still interesting enough to keep you playing. The game does its job in giving fans their fix of KH, while hyping everyone up for KH3... This game is a definite recommendation for RPG fans and KH fans that have a PSP..

…

Expand

The game offers you three, Identical, scenarios in which you travel to Miniature versions of the previous Kingdom Hearts worlds. These worlds

offer neither the amount of Game play nor the awesome Keyblades at the completion of the level. You can burn through a world with 100% completion in less time than the average Gummy ship Mini Game (Which there isn't in this game)

The Kingdom hearts franchise is known for mixing the Magic of Disney with the Solid Game play of Final Fantasy. With the only Final Fantasy cameo coming from a terrible remake of Zach (Crisis Core and 7) its hard to even call this a prequal to the original.

In short:

Three Identicle scenarios

Quick game, 45 hours 100% completion

Not enough Key Blades

One Final Fantasy Character

No Gummy Ship

No replay Value

Does Not compare with other Kingdom Hearts

…

Expand