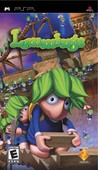 Summary:

Controlling an army of lemmings, the aim is to get as many of these cute characters as you can from the entrance point to the exit point of a level within a time limit. Easy to learn, difficult to master; Lemmings is a test of strategy and fast thinking as you make 'on the spot', life or

Controlling an army of lemmings, the aim is to get as many of these cute characters as you can from the entrance point to the exit point of a level within a time limit. Easy to learn, difficult to master; Lemmings is a test of strategy and fast thinking as you make 'on the spot', life or death decisions for your band of trusting little creatures. Use the unique skills of your Lemmings team to overcome the hazards ahead: The 'Bomber' explodes at will, the 'Floater' can survive high falls and the 'Basher' digs horizontally just when you need it. The 'Climber' is at hand for those tricky mountain ranges, the 'Blocker' creates an obstacle in the path ahead and the 'Builder' is there to construct walkways for his friends. Stretch your strategies across 100 plus levels as you lead your lemmings across an immense variety of challenging backdrops. The levels are arranged into five striking themes, each with its own unique visual flavour. So, whether it's going underground into the sewers or marching through fields and forests, the lemmings always have new terrain to explore. [SCEE]

…

Expand

Developer:

Team 17

Genre(s):

Puzzle

# of players:

1 Player

Cheats:

On GameFAQs

Rating:

E
This new PSP version retains all of the original's charm and addictive playability, while adding in some fantastic new levels and overhauling the graphics and controls to make it feel like it was meant to be a PSP game from the start.

Puzzle fans should line up, march down to the store, and pick up a copy of Lemmings. Just watch out for any traps along the way.

Perfect for both long and short bursts of play, Lemmings is one of the best puzzle games you can own on your PSP.

This game is still as fun as it was when it was first introduced and while the difficulty level might not stump gamers this is still a wildly imaginative and addictively enjoyable game.

The developers really put together a nice product by keeping the wonderfully addictive puzzler experience intact, but still updated the graphics to give it a newer feel.

It's a great puzzle game, but be warned: aside from some never-before-been-scene levels and the ability to design your own, there's nothing truly new here, making the $40 price tag a little dubious. [July 2006, p.87]

This game is just too bare. Sure, some reviewers will pick this one up, play it for an hour, and slap on a decent score, but not this reviewer.
Its lemmings, and with that expectation is perfect. It cant get frustrating at times, but its fun.

This game is simple and can be complex too. You need a lot of strategy to beat some levels and you can also create your own levels and

This game is simple and can be complex too. You need a lot of strategy to beat some levels and you can also create your own levels and challenge your friends. It doesn't have a plot but this is not the kind of game that really needs it. Great game, you would pass hours with it, on the creation mode or beating the hard puzzles.

…

Expand

Lemmings. Not much more needs to be said. Who ever remembers the original Atari/Amiga/Mac/DOS version will instantly love this. It contains

Lemmings. Not much more needs to be said. Who ever remembers the original Atari/Amiga/Mac/DOS version will instantly love this. It contains all the levels from the original game and some new ones. I think it also comes with a level editor.

…

Expand