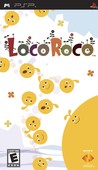 Summary:

LocoRoco is an innovative 2D platform/action game available exclusively for the PSP. Featuring unique controls utilizing the "L" and "R" shoulder buttons, players are tasked with controlling via "tilting or bumping" the landscape of the LocoRoco in order to help them navigate through the

level and keep them out of harm's way. With more than 40 stages, players control and guide the LocoRoco through vibrant, thriving and lush worlds filled with slippery slopes, swing ropes , and more. Featuring six different types of LocoRoco that include their own voices and actions, players will be enchanted by captivating music that communicates the joyous world of these LocoRoco. In addition, LocoRoco features the rewarding LocoHouse, three mini-games , and wireless features. The peaceful world of the LocoRoco are under attack by the not-so-nice Moja Corps. These evil outer space creatures want nothing but to capture the blissful LocoRoco and take them from their land of blowing flowers, lively creatures and pastel scenery. As the planet where the LocoRoco inhabit, players must tilt, roll and bounce the LocoRoco to safety. [SCEA]

…

Expand

Developer:

SCE Japan Studio

Genre(s):

2D

# of players:

1-16

Cheats:

On GameFAQs

Rating:

E
My favorite PSP game. It has beautiful visuals, wonderful songs, cute characters, simple gameplay that's easy on the go, and a lot of replay value.

A success due to a number of reasons including an inspired artistic style that is simple but strikingly beautiful, characters that are both eccentric and charming, and a catchy soundtrack that you won't get out of your head.

It's vibrant, cheery and serves no other point than to make you smile. But, like candy, Locoroco also ends sooner than you want it to end. Still, it's fantastic while it lasts and just the kind of game you want in your pocket.

LocoRoco is one of the most original and quirky titles to hit the PSP in some time. The controls are such that both hardcore and casual players alike can get into the game just as well.

The world of LocoRoco is uniquely beautiful, aggressively charming and a lot of fun to explore, and it keeps its load times short. If you've ever wanted a reason to hug your PSP, now's your chance.

As adorable as it is eccentric, and as addictive as it is challenging, it still may not be everyone's cup of tea. But if happy, singing blobs navigating trippy technicolour worlds sounds like fun, you need this one in your PSP library.

Real talent produced this technology and artwork. So much of LocoRoco is so clever and original that it's almost perplexing when it stops being any fun. The fun does run out, though, long before the game is over -- in that sense, the experiment has to be called a failure.
Best. Game. Ever. Not only for the PSP, best game on any console. The fact that i, as a hard-core gamer that enjoys Halo, RPG's and

Action games can enjoy this title as much as my 3 year old son says it all. If it was the only title available for the PSP it would still warrant a buy of the system. It's that good. Get the demos out there on the net and try it out for yourself.

…

Expand

Its an amazing breath of Freshness, to play this. For those longing for something a bit differnt than yet another burnouty / Fifasoccery /

Prince of Tomb raidery / classic collectionery (you get my drift) usuall remakes and tired old worn out themes that we have all played over and over again (Unless you have only just be born) get it, beat up your neighbour for it (not really, just knick it when hes out) it is quality on a stick. I love it, i've played lots of games in the past (maybe to many) but this is really the most orginall games thats acctually good thats come out (well my way anway) for ages. Your kid will love it, your nan will love it and best of all you will love it. The only thing is it's not the longest of games in the world but hey who gives a saussage. its great.. Trust...

…

Expand

This game is cute, enjoyable, addictive, and a fresh change to the very repetative game genras out there.

What a fantastic game! Simple and addictive, not to mention adorable. Not only one of the best games ever, this is actually one of the best

*things* ever.

…

Expand

One of the best games I've played this year. A delight to play.

the only reason i'm giving this a six is because the gameplay is not as easy as others may lead you to believe. it was already difficult

to get a perfect score on the first level alone. and it's all uphill from there. and when you're already all stressed out from the hard levels, the last thing you want to see is the over-eager smiling loco roco. but in terms of originality, music, character design, and world visuals, i have nothing bad to say about this game.

…

Expand