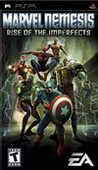 Summary:

Marvel Nemesis delivers the definitive Super Hero videogame allowing gamers to play as and against the world's greatest Super Heroes. The game features Super Heroes from the Marvel Universe as well as a new set of characters created through collaboration with EA and top comic book industry t

alent. EA has called on the talent of top comic book writers and concept artists, such as Jae Lee, for Marvel character and game design as well as renowned artist, Paul Catling, among other industry talents, to create a new family of Super Heroes that will go face to face with an all-star line-up of Marvel characters for the ultimate showdown. Marvel Nemesis: Rise of the Imperfects features more than a dozen fighters in fully interactive and destructible environments. Gamers have full control over the individual characters with each fighter having unique attributes and super powers that are true to their background adding more depth and fighting strategy to the game. [Electronic Arts]

…

Expand
Developer:

EA Canada

Genre(s):

Fighting Games

# of players:

1-2

Cheats:

On GameFAQs

Rating:

T
The actual combat is very quick, very exciting and thoroughly enjoyed. It's unfortunate that the unlockable movies, comic books and online play were removed, but the core game is still stronger on PSP.

There are a number of frustrating annoyances that hold the game back from its lofty attempts at fighting game superstardom, but when the dust settles the gorgeous visuals and responsive, pick-up-and-play fighting engine come together to form an enjoyable Super Hero smash-fest that is worth a good rent if nothing else.

The game looks great and the sound complements the game well.

The only reason to play further in the story is to play as someone else, but once you get there, you grow tired all over again.
Who am I?? I'm not (yet) spiderman. kk... this game is great! Well.. i think it will be... for the psp. the graphics look really good fr

om previews. the moves look good. Previews look awesome. check it out!

…

Expand

Great look, great gamepay, great moves -> brilliant game, but crappy rewardsystem! takes too long to get all caracters!

When i got Marvel Nemesis, i was looking foward to play it, but to my surprise the control were frustrating at first, graphic looks so detail

and the character also, but lack rotating camera area, while fighting against character. I am a BIG MARVEL FAN, will definitely recommend it to the die-hard fans only!

…

Expand

Enjoyable pick-up-and-go fighting portable game. Would be nice if more characters were unlocked from the get-go. Pick up a used copy at a dis

counted price.

…

Expand