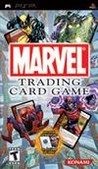 Summary:

Marvel Trading Card Game features Marvel's complete roster of characters and lets players take their game online like never before with massive sanctioned tournaments, a virtual card shop and interoperability between the PSP system and PC versions of the game. Utilizing the popular Vs.

Marvel Trading Card Game features Marvel's complete roster of characters and lets players take their game online like never before with massive sanctioned tournaments, a virtual card shop and interoperability between the PSP system and PC versions of the game. Utilizing the popular Vs. System Trading Card Game from Upper Deck Entertainment, players can learn the basics of the game as a super hero or super villain in the game's single player campaign mode. [Konami]

…

Expand

Developer:

Konami

Genre(s):

Card Battle

# of players:

2 Online

Cheats:

On GameFAQs

Rating:

T
The one biggest failing of the Marvel Trading Card Game is one that no programming magic could fix — namely, that the game will be overlooked simply because the Vs System is less known than its competition, and tragically, that makes finding other people to play against that much more difficult.

For everyone else out there who's been looking for a foiled Deadpool card, Konami has packed a lot of game inside this UMD for you. [May 2007, p.85]

Marvel Trading Card Game is worth a look if your interested in this type of strategy turn based game. Konami has done a very good job adding this game to the PSP handheld system.

It's just that the intense complexity and cramped screen real-estate kept it from being the accessible, instantly lovable smash-bang, super hero-em-up that the comics themselves are.

The gameplay is fun at times, but the manner with which you have to progress through single player to unlock cards is downright grueling and unrewarding.
If you are into Marvel Comics or collectable card games then you may want to check this game out.If you are not familar with the game (which I

If you are into Marvel Comics or collectable card games then you may want to check this game out.If you are not familar with the game (which I was not ) there is a STEEP learning curve and that may turn off a lot of people, it took at least a couple hours before I just had the basic understanding of the game. The good news is once you do understand the concept fully, it is hours upon hours of fun. Not to mention I picked it up for $7.99 at Gamestop so it really won't put a dent in your wallet.

…

Expand