Publisher:

SCEA

Release Date:

Sep 13, 2005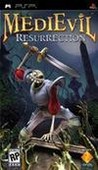 Summary:

One hundred years have passed since the evil Sorcerer Zarok was defeated at the Battle of Gallowmere, heroically cut down by a mortally wounded Sir Daniel Fortesque. Or at least, that's what the people were told; in fact poor Sir Dan was a bit of a coward, falling in the very first wave of a

rrows. Now Zarok has returned, turning day into night, and raising an undead army to conquer the land. As a side effect Dan has also been resurrected... now, he has the chance to defeat Zarok and in death become the hero he never was in life. Follow Dan's quest across the magical land of Gallowmere, taking in oodles of varied levels, gazillions of combat moves and bucketloads of weapons. As the enchanting storyline unfolds, become enthralled in the MediEvil universe; a weird and wonderful place bursting with action and boundless humour. Two handfuls of multiplayer mini-games, with WiFi compatible multiplayer support. In-game help system in the form of the Voodoo Witch and in-game manual located in Dan's crypt. [SCEE]

…

Expand
Developer:

SCEE

Genre(s):

Action Adventure

# of players:

1-2

Cheats:

On GameFAQs

Rating:

T
Really easy to pick up and play. The controls are very easy and responsive. The mini puzzles that are presented to the gamers are easy enough to understand yet still provide a nice challenge.

Offers a quality presentation of a sometimes-awkward game, but for the most part you can overcome the quirky camera and really get into the melee and ranged combat. And the collection of mini-games rivals a handheld version of "Mario Party."

Unfortunately, the lack of fundamental necessities like better camera functionality and fighting mechanics end-up weighing down the experience. We simply need a camera that controls better.

Judged purely on its own merits on this platform it looks like it might be vaguely interesting, but all too soon you're dragged into the real world and forced to acknowledge that despite its warm touches of humour, the hackandslash action is nowhere near the standard we expect from a full-priced game these days.
Great voice overs, funny but game play could be a little more challenging.

This was the first game I bought for psp because I was a huge fan of the original. Resurrection is definitely an able attempt at a remake, esp

ecially for a portable system, but there were a few things I thought could have been better. The framerate slows down when you're outside but runs fine when you enter a building. I'm wondering if this would be fixed if they crossed it over to the vita. The hit detection could have used more work. Also the game feels a little bit rushed toward the end, it's missing a few of my favorite areas from the original, like the hedge maze and time machine levels. Aside from those things though, the tim-burton-esque tone is still present, story telling is solid, level exploration is fresh and rewarding, it's a good game even on it's own merits.

…

Expand

A fun game, but I found the camera (like many first gen PSP games) had a wonky control that made it dizzying to play and focus on. In the end

I had to give up because of it (sigh).

…

Expand