Publisher:

Konami

Release Date:

Mar 22, 2005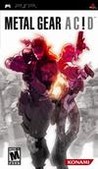 Summary:

Offering gameplay based on strategy and sharp decision-making skills, Metal Gear Acid is a turn-based, tactical espionage game requiring players to collect cards and strategically construct their own decks to complete various missions and objectives. Metal Gear Acid takes place in 2016 on Lo

bito Island, located in the fictitious Tejan Republic of South Africa. Players once again take the role of Solid Snake, the famed top-secret agent, who has been called out of his retirement when a plane is hijacked over U.S. airspace. Tasked with infiltrating an unknown terrorist organization holding passengers hostage thousands of feet in the air, players must diffuse the situation to save hundreds of innocent lives. While playing through the game, Solid Snake encounters numerous dynamic characters, including a new playable female heroine. Players will have the ability to strategically control both Solid Snake and the new female character to defeat their enemies. [Konami]

…

Expand
Developer:

Konami

Genre(s):

Turn-Based Strategy

# of players:

1-2

Cheats:

On GameFAQs

Rating:

M
The play mechanics are well realized and thankfully add something new the to genre. If you're a Metal Gear fan, the card collection aspect alone will make it worth you time for nostalgia's sake.

Easily one of the best turn-based strategy games to come along in years. It offers a deep and flexible system of deck building and card playing, and, better still, it contains everything that has made the Metal Gear franchise so popular over the years.

The experience is analogous to an elaborate board game in which the board and architecture change from mission to mission—much like Hero's Quest (fantasy setting notwithstanding). It may not be a typical Metal Gear title, but it is a very robust game and it is worth a look for those yearning for something different.

It's turned my head, even if it's not quite the 'trip' that it might have been.
If you love turn based games this is a must have for the PSP. As Turn Based is a dying genre I'm glad they created Metal Gear Acid (and part 2

). Storyline is good (8/10), graphics are quite good for a handheld (8/10) and gameplay is where this game shines (10/10). Winning cards and completing a good deck makes the game with a high replayability value. Custom missions with 'kill all enemies' takes a complete different deck then 'stay undetected'. Glad to have found the origional game in the stores today cause it really makes my collection of games for the PSP complete.

…

Expand

This game has many detractors, which should not be suprising given that it is every bit as unforgiving and difficult to get into as many revi

ewers have pointed out. However, that does not make it a bad game. While it may take some patience and (gasp) help from some of the very helpful online guides to figure out how to proceed, once into the game, you will be able to appreciate a very solid and challenging Metal Gear adventure with an interesting story and loads of content for longtime MG fans. While its sequel might have fixed some of its flaws, this one should not be missed.

…

Expand

Just like Kingdom Hearts: Chain of Memories, a great game has been made far less enjoyable than it could've been had they scrapped the i

dea of making something "fresh" and just sticked to what made the originals great. That may seem fickle, but you all know it's true. Nonetheless, the game is still slightly enjoyable, and true MGS fans will still end up playing the hell out of it, if only for the story.

…

Expand

Horrible compared to the rest of the MG series. Card-based gaming ruins everything.