Publisher:

Konami

Release Date:

Nov 13, 2007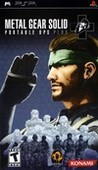 Summary:

Metal Gear Solid: Portable Ops Plus is a standalone addition to last year's award winning stealth action title of the same name. Focusing on a portable multiplayer experience, players will be able to enjoy more maps, more missions, and recruit a talented crew of war heroes for battling real

l opponents in online arenas. Features: Unique Gameplay Modes and Missions – A new single player mode, "Infinity Mission", and additional multiplayer modes will engage even the most experienced strategy veterans. Upload your saved data from the original Metal Gear Solid: Portable Ops to create instant squads. More Online Maps – Choose from a variety of new environment maps, such as an updated version of the REX Hangar area of the original Metal Gear Solid, for more multiplayer mayhem. More Playable Characters – Recruit brand new soldiers from the Metal Gear Solid universe, including Raiden and Snake from MGS4, to form a unique fighting crew. Wi-Fi HotSpot Support – As long as there is a Wi-Fi signal, you can be in the battlefield. With Wi-Fi HotSpot support, you can now play Metal Gear Solid: Portable Ops Plus online at any Wi-Fi HotSpot location. Improved Support – Tutorials and improved in-game support helps players of all skill levels to jump right into the action or hone their skills. [Konami]

…

Expand
Developer:

Kojima Productions

Genre(s):

Action Adventure

# of players:

6 Online

Cheats:

On GameFAQs

Rating:

T
Added maps and online features make the multiplayer aspect of the game noticeably improved, but if you're more into single-player sneaking approach this with caution. [Dec 2007, p.159]

Online is almost dauntingly packed with options, and the roll move is still kind of broken, but it's hard to argue with the price. [Holiday 2007, p.88]

While Portable Ops Plus doesn't offer an incredible amount of new things, it does do an exceptional job at recapturing the elements we loved in the first title.

We're positive you'll want to avoid MGS Portable Ops Plus: a lacklustre single-player mode, unfriendly interface, and minimal new content make it comprehensively inferior to its predecessor.
If you would like a unique multiplayer experience and do not have the first Portable Ops, BUY THIS GAME!!!

This is a great expansion pack! And whats awesome about it is that it doesn't require the original game (it is indeed standalone).
I'd say get it if you're either really serious about MGS: PO, or if you don't want to bother with the story of the original portable ops and want to jump straight into the action (though I wouldn't recommend doing that).
Get it since its on PSN and in stores! :D
It has great gameplay and graphics + great controls.

…

Expand

Is it well-built? Sure. The game has a slick presentation, just like the last game. The controls, while annoying as ever, are forgiving enoug

h to be learned in time. The graphics are nice, but not spectacular. Basically any category this game attempts, it does well, but not much above average. And that's the game in a nutshell.

…

Expand