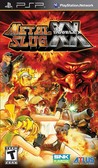 Summary:

Choose between six zany METAL SLUG characters and shoot through seven action-packed levels with varying obstacles, numerous enemies, and diverging paths. Confident players can put their skills to the test by playing more than 70 mission-based trials in "Combat School." With its unmistakable

Choose between six zany METAL SLUG characters and shoot through seven action-packed levels with varying obstacles, numerous enemies, and diverging paths. Confident players can put their skills to the test by playing more than 70 mission-based trials in "Combat School." With its unmistakable style and personality, nostalgic gameplay, more than 70 missions, and the ability to play with a friend, METAL SLUG XX is the definitive portable METAL SLUG arcade experience. [Atlus USA]

…

Expand

Developer:

SNK Playmore

Genre(s):

General

Cheats:

On GameFAQs

Rating:

T
As far as the franchise goes, Metal Slug XX is pretty accessible, and most action-oriented gamers will enjoy it.

Still, for its budget price ($19.99), Metal Slug XX more than delivers on its promise of old-school mayhem.

The campaign is super-short (clocking in at a little under an hour from start to finish), but this is a game that is meant to be played over and over again. Just don't expect much in the way of innovation.

Metal Slug XX is a textbook entry to the series. The familiar terrain is nice, but it may leave some unsatisfied.

There's about as little to legitimately rave about as there is to complain about. Metal Slug XX is a formulaic romp that should remind people who have ever played any other game in the series of every other Metal Slug game they've ever played. No risks were taken, no innovative ideas were uttered, and no minds were blown,. That said, it's still a fun time.

Metal Slug XX does not entertain as the past chapters. Without a brilliant level design, the SNK classic is just an old school scrolling shooter suitable for old time fans.

The game is almost universally unforgiving and doesn't seem to want to let the player ease into its world and actually learn. Rather, Metal Slug XX prefers to pummel you with a difficulty that's more unfair than it is legitimately challenging.
If you are a fan of the Metal Slug series then you will have already bought this game by now, for everyone else, I would recommend it if:
1.If you are a fan of the Metal Slug series then you will have already bought this game by now, for everyone else, I would recommend it if:
1. You like shmups (bullet hell, run and gun)
2. You like action games
It is probably the most accessible of the Metal Slug games due to the Combat School which allows you to learn the patterns of the bosses quite well in particular (note they are not called bosses, but "Base Assault" if you are looking for them in the menu)

I gave it a 7 as at retail £20 could be too high, though I looked online and got it for less than £12 which represents great value for money.

…

Expand

Metal Slug XX is a decent game, the gameplay is the same as The Metal Slug Anthology. The graphics are a little improved. The game feels too

Metal Slug XX is a decent game, the gameplay is the same as The Metal Slug Anthology. The graphics are a little improved. The game feels too easy and its also to short. Their are 6 playable characters and 7 playable missions, but the design of the levels feels like they rushed them and in return they made an okay game, it could've been much better.

…

Expand