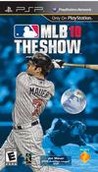 Summary:

New Personalized batting stances. Play against friends on the go in Ad-Hoc mode. Find your way to the top in Road to the Show. Updated rosters and new stadiums. [SCEA]

Developer:

SCEA

Genre(s):

Sim

Cheats:

On GameFAQs

Rating:

E
MLB 10: The Show really surprised me in the way that it featured a very solid baseball title for the PSP.

I received the game via PSN download, so I cannot vouch for loading times on UMD purchases. However, I will say that on the Sony forums, series veterans are complaining that the PSP's MLB 10: The Show actually offers fewer features than MLB 09 The Show – but as a first time visitor, I came with no expectations and I absolutely love the game.

The most important thing you need to know about MLB 10: The Show is that it plays a very solid game of baseball.

The analog control issues and other small setbacks (Rex Hudler, no Infrastructure play) keep this from winning the pennant, but it's still the go-to batter for on-the-go sports. Take MLB 10: The Show to the ballpark this summer and enjoy.

While the game offers few changes over the 2009 version, and even takes a step back with the removal of online play, this still a deep baseball game with tons of great features.

MLB 10: The Show for the PSP remains the premier portable baseball title around.

Incredibly shortened loading times when run off the Memory Stick/internal Go memory.
The graphics are great, the physics are great, all the modes are great, commentary's great. Only downside is when sliding into a base

The graphics are great, the physics are great, all the modes are great, commentary's great. Only downside is when sliding into a base sometimes the runner slides through the fielder, and when a right-handed batter walks, he always walks through the arm of the catcher so that's freaky. But a superb game overall.

…

Collapse