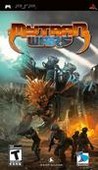 Summary:

It's the 23rd century: The earth's natural resources are virtually exhausted and the ruling multinational conglomerates are searching for new raw material deposits in space in order to avert the impending catastrophe. One planet turns out to be a real El Dorado in this respect. But as the

It's the 23rd century: The earth's natural resources are virtually exhausted and the ruling multinational conglomerates are searching for new raw material deposits in space in order to avert the impending catastrophe. One planet turns out to be a real El Dorado in this respect. But as the human conquerors in their armed mecha encounter the extraterrestrial inhabitants a dreadful war breaks out. The player researches into new technologies and continues to rearm his mecha in Mytran Wars. Battles are thereby fought in wonderful 3D landscapes - against the merciless AI or other human opponents in various multiplayer modes. 30 missions with 30 to 40 hours of single player gameplay! Dozens of unlockable extras and more than 250 research-able items on six different tech-trees. 4 campaigns with 2 different fractions, supported by a comprehensive story plot. [Deep Silver]

…

Expand

Developer:

Stormregion

Genre(s):

Sci-Fi

Cheats:

On GameFAQs

Rating:

T
You'll enjoy Mytran Wars, given time and an understanding of the battle mechanics. It's got something others in the genre don't – a feeling you're playing a game of skill.

This game will satisfy the wishes of strategy fans, but isn't able to recruit new folks for the genre. The concept of the game isn't innovative enough to fascinate.

Mytran Wars is a classic turn based strategy game, maybe too classic: you can't skip sequences nor move different units at once, so the action is slow paced. The graphics are completely 3D, the mechs look good enough but the colors are ugly. A good choice if you like the genre, however.

No boundaries are pushed, but no crippling mistakes are made. Still, I say we abandon the status quo and further distinguish Western games from their brightly-colored Eastern counterparts. For mechs, I prefer rust to shine, and crude oil to cold fusion.

If the fate of most badly designed games is to suffer an excruciatingly slow end by falling on their own swords, Mytran Wars is so awful it doesn't have a sword with which to end it all, and it is instead forced to starve to death.