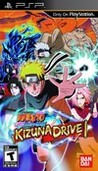 Summary:
Following an all-new story, NARUTO SHIPPUDEN: Kizuna Drive pits Naruto and friends against an unseen foe responsible for the disappearance of ninja from Hidden Leaf Village. New game-exclusive characters will descend onto the scene and unexpected plot twists are revealed as players discover who seeks vengeance upon Naruto.
Designer/Producer/Programmer credits provided by
GameFAQs
.
If you contributed to this game and feel you should be credited, please read our
FAQ
.
| | |
| --- | --- |
| | |
| | #22 Most Discussed PSP Game of 2011 |
| | #11 Most Shared PSP Game of 2011 |