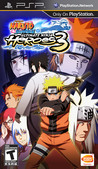 Summary:

Naruto Shippuden: Ultimate Ninja Heroes 3 puts players' fighting spirits to the test with intense and frantic battles while using one of more than 50 characters. New characters include Young Kakashi and Obito Uchiha from the Naruto Shippuden special, Kakashi Chronicles. For the first time i

in the series' history, Naruto Shippuden: Ultimate Ninja Heroes 3 expands upon the series' trademark fighting engine and updates it for four-player brawls. Team up with a partner to unleash a devastatingly powerful Jutsu team attack on opponents, or interrupt an enemy's Ultimate Jutsu to help or hinder another player. [Namco Bandai Games]

…

Expand
Developer:

CyberConnect2

Genre(s):

Fighting Games

Cheats:

On GameFAQs

Rating:

T
This game is pretty balanced: Action, tactics and dexterity team up with each other for your pleasure. There are some beat 'em up levels, jump 'n' run passages and a really long lasting appeal.

The Ultimate Ninja Heroes series for the PSP has improved with each game, but not enough to keep itself fresh.

Naruto Shippuden Ultimate Ninja Heroes 3 is the classical "more of the same". This game is almost identical to any other Ultimate Ninja games for PSP. The only differences are the higher characters number and the new multiplayer options. If you're a BIG fan on the original anime, buy it. If you just want a Naruto game... you can have the previous one for a few bucks.

Though there is plenty to explore in the game's story mode, the story is all well-tread ground and there aren't any supporting modes other than an ad-hoc multiplayer mode.

Naruto Shippuden: UNH3 isn't a bad game, but it does at times feel more of a chore playing than it is actually having fun.

Extra content is spread very thinly but voracious Naruto fans will lap this up. [Aug 2010, p.103]

Perhaps developers should focus more on quality over quantity and start heading in a different direction before they tire out their fans with sequels.
Don't trust any other reviews of the game. If you're a fan of the show, you'll love the game. Simple as that. Good mechanics, wide selectio

n of jutsu, and lots of battle customization options. You cannot go wrong with this amazing game.

…

Expand