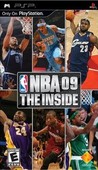 Summary:
Combining a blend of arcade and simulation basketball along with a host of unique mini-games, NBA 09 The Inside delivers an engaging NBA experience with quick action and fluid gameplay. New this year is Franchise Mode, where players have the opportunity to take control of their favorite NBA team and make every decision from drafting players, to signing free agents, to managing player contracts. Elimiquest, a twist on the popular Conquest Mode, is available to let players take over the entire country while playing in the style of the Elimination mini-game. NBA 09 The Inside introduces a number of new, quick action mini-games that players can enjoy anytime, anywhere. All-new mini-games, from the bowling-style arcade game Alley-Oop, to contests such as the modified 5-on-5 game Give & Go, to new basketball-themed pinball tables, are all available to provide fast and engaging action that further adds to the stable of traditional and non-traditional basketball gameplay. Refined gameplay mechanics and Artificial Intelligence (A.I.) also help to create a more realistic and action-oriented gameplay experience. [SCEA]
| | |
| --- | --- |
| Rating: | E |
| Official Site: | http://www.stepinsidethelife.com/ |
| Developer: | SCEA San Diego Studios |
| Genre(s): | Basketball |
| Number of Players: | 1-2 Players |
| License: | Major League Sport |
| Connectivity: | Online, Wi-Fi |
| Online Modes: | Competitive |
Designer/Producer/Programmer credits provided by
GameFAQs
.
If you contributed to this game and feel you should be credited, please read our
FAQ
.