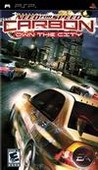 Summary:

Need for Speed Carbon Own the City features all-new crew-based gameplay and an exclusive east coast open-world city to explore. The unique to handheld story thrusts you into an ongoing turf war. You are challenged to build an unstoppable crew, win races against fierce rivals, and outwit the

Need for Speed Carbon Own the City features all-new crew-based gameplay and an exclusive east coast open-world city to explore. The unique to handheld story thrusts you into an ongoing turf war. You are challenged to build an unstoppable crew, win races against fierce rivals, and outwit the cops. How you choose and manage your crew will be the difference between victory and defeat. Crew members improve with race experience and you'll have to choose either to develop each crew member over the course of the game or swap them out when hot new recruits come available. Take control of the city and dominate the race scene in Need for Speed Carbon Own the City. [Electronic Arts]

…

Expand

Developer:

EA Canada

Genre(s):

GT / Street

# of players:

1-3

Cheats:

On GameFAQs

Rating:

E10+
It's one of the rare times where you should purchase both the console versions and the PSP version since both offer different yet extremely compelling racing.

We're definitely keen on the PSP version, serving up some solid racing fun that'll get your heart pumping and your fingers moving. Just be sure to get by with a little help from your friends.

Own the City is a very different game from the console versions of Need for Speed Carbon, but it's still an exciting racer in its own right.

This is the most fun game in the PSP series purely from a control and competition standpoint, and it's overall a step in the right direction for a series that has been stuck in a major rut. [Jan. 2007, p.92]

Own the City simply feels like more of the same. Sure, there's an open city and wingmen that'll take out your opponents during a race, but neither of these are huge, game-changing additions.

The story might be terrible, but somehow it is still better than nothing and the wingman system does work, even if it is a bit odd.
Pretty sick game. I just bought a psp and this to go along with it because I have it for 360. I also bought 3 other games and i found myself

Pretty sick game. I just bought a psp and this to go along with it because I have it for 360. I also bought 3 other games and i found myself playing only this one. this game is awesome and is a great crossover from the console edition. Worth buying!

…

Expand

Its the best NFS game I ever played. I love the story line, which is different form all other systems, it really adds a nice touch. I also

Its the best NFS game I ever played. I love the story line, which is different form all other systems, it really adds a nice touch. I also love the ending. It was a prefect game, but, they left out two very important thing, spinners, and neon underglow.

…

Expand

This game is undoubtedly the best NFS so far - they just keep getting better, and this version has made a huge leap in my mind with the

This game is undoubtedly the best NFS so far - they just keep getting better, and this version has made a huge leap in my mind with the inclusion of the open world. For a portable racer to have such a vast, open driving experience.. it's just a fantastic experience finally being free of track loading times!

…

Expand

I think that nfscown the city is one of the best nfs games. it has awsome graphics for a handheld and has alot of customization varriations.

I think that nfscown the city is one of the best nfs games. it has awsome graphics for a handheld and has alot of customization varriations. you can name your crew customize your crew and u dont have crew members in midnightclub dub edition. you have a limited # of NOS on dub edition, on carbon your NOS grows back for the things u do. also, you dont get lost on the races and you can get chased by the cops.

…

Expand

Some people may say this game is good but i'm here to say that the driving physics are very strange. I don't think the tires have grip.. you

Some people may say this game is good but i'm here to say that the driving physics are very strange. I don't think the tires have grip.. you just slide around. But if you are a person that isn't a racing fan, this game may be for you.

…

Expand

It's an okay.. game but u know midnight club 3 for psp is much better than nfs carbon own the city midnight club 3 gives much more

It's an okay.. game but u know midnight club 3 for psp is much better than nfs carbon own the city midnight club 3 gives much more details on the cars and has much better cars. Get midnight club 3 insted of nfs carbon own the city if I were u!!!

…

Expand

Frankly this is a patrhetic game compared to Most Wanted because it's on PSP. The online multiplayer is unacceptably laggy. Single player

Frankly this is a patrhetic game compared to Most Wanted because it's on PSP. The online multiplayer is unacceptably laggy. Single player races are boring and not challenging or fun. The cars, soundtrack, customisation etc. all suck. Then again, it is a portable game. It would be unreasonable to expect game developers to make a good game for a PSP. Now that IS impossible.

…

Expand