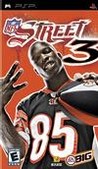 Summary:

With NFL Street 3 you can play your style of football both on the ground and in the air in this newest iteration of the popular NFL Street franchise. Show off your style and boost your score by performing stunning aerial moves, jumping into the air and collecting special items and game

modifiers that hover above the playing field. You will also have the ability to control your Gamebreaker and pull off new Power moves that are available to both the offense and the defense. [Electronic Arts]

…

Expand

Developer:

EA Tiburon

Genre(s):

Arcade

# of players:

1-2

Cheats:

On GameFAQs

Rating:

E
Like its PS2 sibling, NFL Street 3 is a rehash but still a must-buy for its intense and addictive Gamebreakers.

NFL Street 3 plays a fine game of street football. It's the kind of game that you can get a casual gamer into in a few minutes, compared even to other casual games like the Madden series.

NFL Street 3 reaches a lofty level of "Chad Johnson-ness" for its outrageousness and over-the-top gameplay along with the nice embellishments of new modes and moves, but a sometimes-aggravating camera, lackluster graphics not up to the level of its console brethren and handheld controls that don't entirely feel responsive as they should be deflate any game ball that you could have potentially handed out to NFL Street 3.

A feature-rich offering that can be both extremely entertaining and equally frustrating to play.

Yes, the action can get tedious over time, as you realize that strategy takes a back seat to cheap super-moves and quick fingers. But there's something here.

Unfortunately, NFL Street 3 isn't consistently entertaining, and the new wrinkles in its gameplay don't do enough to differentiate it from previous games in the series. Unlike Ocho Cinco, Street 3 is probably a bit too safe for its own good.

In the end, it's fun to play, and will keep you engaged. But the muddy visuals, lack of Wi-Fi, and undersold Gamebreakers will throw you for a loop.