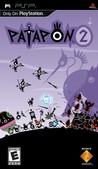 Summary:

The story of the Patapon tribe marches forth as they hunt for the fabled Earthend. Shipwrecked in a new and strange continent the Patapon are depending on you, their god, to lead them safely through this perilous new land. As you guide the tribe through this new world with your mystical

The story of the Patapon tribe marches forth as they hunt for the fabled Earthend. Shipwrecked in a new and strange continent the Patapon are depending on you, their god, to lead them safely through this perilous new land. As you guide the tribe through this new world with your mystical drum, they will come face to face with a new tribe, encounter a mysterious and mighty Hero Patapon and uncover the ruins of Patapolis, a mystical place long spoken of by the Patapon. All-new modes to Patapon 2 include thrilling multiplayer stages, a huge array of missions and deep tutorials that will have you drumming to the beat of the Patapon in no time. Head to patapon-game.com for the captivating mini-game, The Art Of War, where the goal is to collect as many Patapon characters as you can and then immortalise your battle with the Patapon Wallpaper creator. Lead your loyal followers through 60 rhythmic stages. Keep the beat going with tons of hidden items and mini-games to reveal. Drum along with friends and tackle multiplayer missions. [Sony]

…

Expand
Developer:

SCE Japan Studio

Genre(s):

General

# of players:

1-4

Cheats:

On GameFAQs

Rating:

E
Patapon 2 is a bit different; the first was an excuse to break out the long dormant handheld, the second comes with marching orders - go buy this game. And if you don't have a PSP, make sure you pick one up while you're out… you'll need it to play Patapon 2.

A few minor quibbles and frustrations aside, Patapon 2 is every bit the worthy successor to its superlative forefather.

Patapon 2 is a fine sequel, offering compelling new features while keeping the charm that made the first game so great. Fans of the original would do well to check this one out.

Patapon 2 is just as wildly addictive as the original, with its energetic gameplay and presentation.

Patapon 2 is not stated as a new work, it's more like an expansion. It contains some interesting new features, but everything else remains unchanged. Sometimes it is frustrating; sometimes it is fun to play. The game calls exaggerated knowledge of strategy, but above all, remains a great game to play on the portable system.

Patapon 2 tries to push further the good experience that begun with it predecessor; sadly many of the innovative features that we learned to love are there no more, replaced by a mere reproduction of the same experience delivered from the original title. Fans should try it, but many others could just find it for what it is, more of the same.
Probably the best game I've played on the psp. It's almost exactly like the original except improved in every way. It has all the bosses from

Probably the best game I've played on the psp. It's almost exactly like the original except improved in every way. It has all the bosses from the first along with a complete array of new ones, and they're just as fun to battle as ever. The game has around twice as much content as the first and will probably take you around 30 hours to complete. The RPG elements are greatly improved on, no more being stuck with that battle axe you picked up, you can return to certain fortress battle levels you've already played to get better weapon pick ups. Haven't played this in 3 years but I'm thinking about doing so soon since it can be played on vita.

…

Expand

Very good addicting game. I love it. Excellent art style, fantastic sound and great game play. at 19.99 it is an overall steal. and at the

Very good addicting game. I love it. Excellent art style, fantastic sound and great game play. at 19.99 it is an overall steal. and at the poster Chrissy M, you cant rate a game based on the fact that it was download only. That does not effect the score. You do not need a computer to download it, though you do need the internet. The internet is basically a required item to function in today society, and if you can afford to get a 200$ psp and a 20$ game, you can afford the net. The purpose of going all download is to present a unified network for all gamers. no delays, no language barriers, releases around the world at the same time. I honor what sonys doing. not only does it save the environment, it stops companies like gamestop from making money off of a product they do not own. When you trade your game in, you are KILLING the very industry you love. its WORSE than pirating because the company is making money off it. UMDs take longer to load than ram based memory, and its much quicker than just poping it in and going. You dont even need to go to the store, you can just buy it at home, not to mention that the company who makes it gets full profit. You loved the game, i see no reason to give this a 4 based on the fact that you fail to understand the future of digital content.

…

Expand

This review contains spoilers, click expand to view.

Critics who say this game is bad are crazy I absolotley would love this game if a few flaws werent holding it back. I didnt by the first game because I wasnt impressed with the demo. Well guess what I loved the demo for patapon 2. First of all the story is great and is perfect for this game. The gameplay is also fairly simple. simply drum a four digit song to command your patapons to battle. Lots of improvements have been made to the game. The most noticable is the look and feel of the game dont set this game down into fever wants you get into fever youll start beating away and siing "pon pon pata pon" with your patapon army. the items you pick up also help enhance the fun of the game. when you first begin the game your patapons are black and white once you get to the final boss youll be firing electric arrowns with fire helms and Ice shields. The game also gets a new character called Hero (default name) this charcter wheres a mask that give him special powers such as iving all of your patapons a temporary shield. These powers vary buy what class your hero is but they definitly help as you proogress thrugh the game. The evoulution system has also been improved to adding a tree to your patapons health to help with a ceatain kind of attack but weakens you to a other type of attack. There is no longer just meat either it cafateris meat and all differnt kinds of meat. you now have to focus on a ceartan level to upgrade a certain type of patapon. As I said in the beggining this game has it flaws such as now start menu. The game does have a menu but it dosent stop your enemy from attacking you patapons the only option you have to stop your game is to turn your psp tottaly off. The game does have multyplayer but is ad-hoc (local) only. Its a big setback since it has an egg system where you can get special items. You can play multyplayer alone but the first couple of times you play cpus will pop out of the egg. If this game had online play id give it a ten but it dosent

…

Expand

Totally awesome game. I looked at this game first and thought it was stupid, but when I tried out the demo I was amazed. Seriously, just give

Totally awesome game. I looked at this game first and thought it was stupid, but when I tried out the demo I was amazed. Seriously, just give it a try.

…

Expand

Patapon's rhythm meets RTS style of gameplay is brilliant. Mix in unique RPG elements and you've got an awesome little music/adventure game

Patapon's rhythm meets RTS style of gameplay is brilliant. Mix in unique RPG elements and you've got an awesome little music/adventure game that is chock full of personality. Its not all quite as perfect as you may like. There is a lot of grinding to do and the system used to level up your troops is plenty more convoluted than it should be. However, this never stopped me from enjoying very long and very fun game.

…

Expand

This game was pretty fun. This game looking so bored but i actually like this game. I didnt know playing this game was going be so much fun.

This game was pretty fun. This game looking so bored but i actually like this game. I didnt know playing this game was going be so much fun. The story isnt all that great but the gameplay make you want more. A great game for everyone. I bought this game when I got my psp go. I played this game for hours. This is game you can play for hours and hours to kill time. But When you have other games to play its kind of hard to play this game since gotton other ghames i havent played this game. This is a good game when you beaten all your other games. This isnt a game I would play everyday. I do recommend this game to everyone. This is still a great game to have in your collections of game.

…

Expand

Everywhere I went to buy this game, all they had was a voucher. I think it is BS that Sony is going to do away with UMB discs. How am I going

Everywhere I went to buy this game, all they had was a voucher. I think it is BS that Sony is going to do away with UMB discs. How am I going to be able to trade this in? It's not worth buying another memory card just so I can trade my game with someone else. I was told buy a associate at a Game Stop that Sony is doing away with the disc and soon the only way to purchase PSP games is to download it through the Playstation Network to cut cost. Even though it is cheaper, I would've paid full price for the convenience of just popping the game in a being able to play the game right away. Now I have to download a bunch of software to computer. What if some one didn't have the internet, or even a computer. If Sony decides, to remain this way, I think they will tend to loose their customers and I am one of them. Just my personal opinion. I loved this game so much I went ahead and bought it, but I will not buy another voucher if they come out with a Patapon 3.

…

Expand