Publisher:

Ubisoft

Release Date:

Apr 3, 2007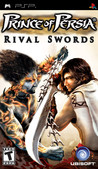 Summary:
In Prince of Persia Rival Swords, the Prince makes his way home to Babylon, bearing with him Kaileena, the enigmatic Empress of Time, and unspeakable scars from the Island of Time. But instead of the peace he longs for, he finds his kingdom ravaged by war and Kaileena the target of a brutal plot. When she is kidnapped, the Prince tracks her to the palace – only to see her murdered by a powerful enemy. Her death unleashes the Sands of Time, which strike the Prince and threaten to destroy everything he holds dear. Cast out on the streets, hunted as a fugitive, the Prince soon discovers that the Sands have tainted him, too. They have given rise to a deadly Dark Prince, whose spirit gradually possesses him. Versus play in timed races as either the Prince or Dark Prince. Interrupt and impede your opponent's progress by activating switches in your own level that will trigger traps and obstacles in their level. Play and master two distinct characters: Wield the powers and weapons of two master warriors with different combat styles, attitudes and histories. Choose your way to kill: Master the expanded Free-Form Fighting system to destroy enemies in your own style, strangle them from afar with the deadly Daggertail, or surprise them with crafty Speed Kills – the choice is yours. Battle freely through Babylon: Dominate enemies on perilous rooftops, dodge through chaotic streets and ambush pursuers in dark underground passageways. Brand-new chariot combat levels: Seize the reins of a chariot and battle through brand-new levels that are immediately available in the Main Menu for a quick adrenaline rush. [Ubisoft]
| | |
| --- | --- |
| Rating: | T |
| Official Site: | http://www.princeofpersiagame.com/uk/ |
| Developer: | Pipeworks Software, Inc. |
| Genre(s): | Action Adventure |
| Number of Players: | 1-2 Players |
| ESRB Descriptors: | Blood, Violence |
| Offline Modes: | Competitive |
| Connectivity: | Wi-Fi |
Designer/Producer/Programmer credits provided by
GameFAQs
.
If you contributed to this game and feel you should be credited, please read our
FAQ
.