Publisher:

Konami

Release Date:

Apr 26, 2005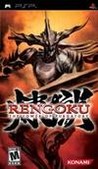 Summary:

Rengoku: The Tower of Purgatory is a third-person action game that places players in a dark and distant future. Modeled in a compelling blend of Eastern and Western sci-fi/fantasy, Rengoku puts gamers in the role of a well-armed battle android that must fight its way to the pinnacle of a gre

at tower to confront a mysterious foe. Rengoku also features immense replay value thanks to the PSP handheld system's wireless multiplayer technology. Gamers can trade equipment and items with other players or battle up to three other opponents in the multiplayer mode. [Konami]

…

Expand
Developer:

Neverland

Genre(s):

Action Adventure

# of players:

1-4

Cheats:

On GameFAQs

Rating:

M
Seriously though, how important are these extras if the game itself is so mind-numbingly underdeveloped?

Comes close to hitting the mark, but misses by the fine details that separate the good from the mediocre. [May 2005, p.69]

This game is a pretty clear cut disappointment and there is really no other way to say it. It had the potential to be a sleeper hit, paving the way for action games on the PSP, but ultimately let down with an uninspired storyline and lackluster gameplay.
Compared to the crappy card based metal gear acid this game is great you can customize your person and i mean if you dont like this than get u

ntold legends because either one is pretty decent.

…

Expand

I really liked how original this game was. And how the character is fully customizable. very good game.

A very hot prospect in the psp titals, but graphics are not up to scratch.Its quite cool how you can make your own character. Ive seen better.

eugh. Rengoku if fun for about 5 minutes, then it settles into a boring, corny, and downright redundant pattern. deaths are probably the most

annoying part of the game. you die, start at the VERY FIRST part of the game, and have to get your stuff back. there isn't an easy way to re-load a game other than to soft reset. the customization was a nice touch, but the amount of money you get per kill is nowhere NEAR enough to power-up appropriately. moving controls are OK at best, but combat is rediculously one sided and complicated. overall, it's barely worth the rent.

…

Expand