Publisher:

Konami

Release Date:

Apr 26, 2005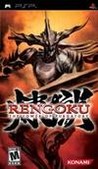 Summary:

Rengoku: The Tower of Purgatory is a third-person action game that places players in a dark and distant future. Modeled in a compelling blend of Eastern and Western sci-fi/fantasy, Rengoku puts gamers in the role of a well-armed battle android that must fight its way to the pinnacle of a gre

at tower to confront a mysterious foe. Rengoku also features immense replay value thanks to the PSP handheld system's wireless multiplayer technology. Gamers can trade equipment and items with other players or battle up to three other opponents in the multiplayer mode. [Konami]

…

Expand
Developer:

Neverland

Genre(s):

Action Adventure

# of players:

1-4

Cheats:

On GameFAQs

Rating:

M
With its minimalist aesthetic and focus on customization and combat at the expense of all else, Rengoku might leave a lot of curious PSP owners cold. But, for those gamers looking for something a little further afield than the latest racing or sports update, this niche experience is most definitely worth looking at.

An appealing idea for a game is present in Rengoku, and Hudson could create something powerfully addictive and fun if they just revised some basic aspects of the game design and moved it to a system powerful enough to do Suemi's designs justice.

Rengoku's clunky control system does well to convince you you're a steel-clad cyborg, but unfortunately this rigid feel doesn't lend itself to an enjoyable game. [JPN Import]

This game is a pretty clear cut disappointment and there is really no other way to say it. It had the potential to be a sleeper hit, paving the way for action games on the PSP, but ultimately let down with an uninspired storyline and lackluster gameplay.

Here's how Rengoku works: take something cool and mess it up. It's that simple. They took robots and they made them boring and stupid.

That's it. You can customize your 'bot a little, but frankly we haven't had this much fun since we ran over a bee hive with a riding lawnmower.
Compared to the crappy card based metal gear acid this game is great you can customize your person and i mean if you dont like this than get u

ntold legends because either one is pretty decent.

…

Expand

Good customization, good action; story could be more involved.

I really liked how original this game was. And how the character is fully customizable. very good game.

Graphics are not bad, but the gameplay is lacking and the character controls a bit like a corndog on a stick....not something I reccommend fi

ghting off evil androids with, I might add. Eventually, the lack of story and pointlessness of the game set in and trade-in time arrives. Wait for a better sci-fi adventure to come along.

…

Expand

eugh. Rengoku if fun for about 5 minutes, then it settles into a boring, corny, and downright redundant pattern. deaths are probably the most

annoying part of the game. you die, start at the VERY FIRST part of the game, and have to get your stuff back. there isn't an easy way to re-load a game other than to soft reset. the customization was a nice touch, but the amount of money you get per kill is nowhere NEAR enough to power-up appropriately. moving controls are OK at best, but combat is rediculously one sided and complicated. overall, it's barely worth the rent.

…

Expand

Boring zzzzzzzz BOE - BOE - BOE.

This is by far one of the worst games I have ever played EVER, and I played Final Fantesy X2.