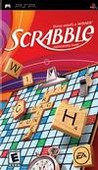 User Score
tbd
No user score yet- Be the first to review!
Summary:

The game is designed to be the secret training weapon for both accomplished and novice SCRABBLE players. The handheld versions offer classic and new ways to play the time-tested crossword game, as well as drills and exercises to improve strategy and performance. SCRABBLE for the Nintendo DS

and PSP offers players three modes of play. Classic mode features traditional SCRABBLE game play while Speed mode pits players in a head-to-head race against the clock competing with friends or the device AI. The third mode, called SCRABBLE SLAM, is based on Hasbro's new card game and challenges players to discard their virtual SLAM cards by making as many four letter words as possible within a two-minute time period. The SCRABBLE handheld versions are loaded with additional features to heighten the interactive SCRABBLE play experience and transform the average player into a superior "wordie." SCRABBLE Trainer allows players to strengthen their vocabulary and playing skills with six exercises at various difficulty levels designed to help improve strategy and performance. Word lovers will also appreciate the official SCRABBLE Players Dictionary and SCRABBLE Word Finder. [Electronic Arts]

…

Expand
Developer:

Stainless Games

Genre(s):

Parlor Games

Cheats:

On GameFAQs

Rating:

E
The single-player portion leaves a lot to be desired thanks to the shady AI, though it's still good practice. Multiplayer can be a lot of fun though, and that's really the whole point anyway.