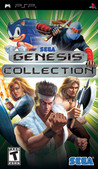 Summary:

(Known as "Sega Mega Drive Collection" in the UK/EU) SEGA Genesis Collection features over 30 titles including, Altered Beast, Sonic The Hedgehog, Shinobi III, Phantasy Star, and the original SEGA Genesis version of Golden Axe. SEGA Genesis Collection also features numerous unlockable items

that delve into the soul of the Genesis including interviews with the original developers that created the games featured in the collection, a museum area with interesting facts about the games, a hint area to help gamers complete their favorite SEGA Genesis games, and SEGA arcade games from the Genesis era. [Sega]

…

Expand

Developer:

Sega

Genre(s):

Compilation

# of players:

1-2

Cheats:

On GameFAQs

Rating:

T
I love the attention to detail here; this isn't just a number of classics slapped into a collection with no thought - this is a set that was meticulously put together and each game is given the proper respect to make you want to play every single one of them, which is what a classics collection should do.

To be blunt, Sega Genesis Collection is the definition of essential gaming, and it has a rightful place on the shelves of any PSP owner looking for an inexpensive and high-quality addition to their library.

Going back and playing as that little blue hedgehog from my childhood was enough to sell me on this game. On top of that I had the pleasure of playing Golden Axe, and Virtua Fighter 2 along with many of the other games that I played as a child. This could possibly be one of my favorite PSP titles on the market.

But it's the gameplay and extras that will keep you coming back.

Despite the lack of polish in the outer shell, the meat of the Sega Genesis Collection is mighty tasty and in the end that's all that matters. The price isn't half bad either.

Uncommonly strong retro compilation heartily recommended to those with fond memories of their days of Mega Drive ownership or, indeed, any fans of solid gaming experiences.

The real appeal of Mega Drive Collection is as an interactive history lesson. [Mar 2007, p.114]
Great compilation, one of the best for any system. 28 plus games, difficult some of them, but in the 90 's that was the premise of the

console games to compensate the short of them. Buy it while it lasts.

…

Expand

The best retro compilation on the PSP with a generous number of classics resuscitated.