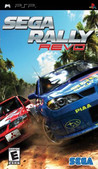 Summary:

(Known as "Sega Rally" in the UK/EU) SEGA Rally Revo on the PSP system encapsulates everything its predecessors laid out when defining the rally genre from amazing visuals and superb handling to closely-fought competitive racing. These key components laid the development foundation for SEGA

Rally Revo on the PSP system that delivers a thrilling race against competitive AI, powered by instinctive handling system that rewards players for pushing their rally-racing skills to the limit. With the addition of multiplayer wireless and online multiplayer, there's scope for players to show off their skills against their friends, whilst the excellent PSP system screen exudes all the visual qualities expected of SEGA Rally Revo. [Sega]

…

Expand
Developer:

Bugbear

Genre(s):

Racing

# of players:

4 Online

Cheats:

On GameFAQs

Rating:

E
Bugbear adheres to everything that makes the franchise stellar, rather than trying to break any new ground. [Issue#158, p.84]

SEGA Rally Revo is a great game, infinitely more fun than its console cousin. The PSP version has incredible graphics, intuitive controls, and a fun casual design that will keep you playing for months to come.

With a proper multiplayer setup that allows for ad-hoc, infrastructure and gamesharing, and gameplay that engrosses you from the start to finish[line], Sega Rally Revo really does have everything rally fans, racing fans, and fans of the arcade franchise will love. Best of all, you can take it on the road with you.

The controls are easy enough for almost anyone to play and the visuals look solid on the PSP's screen. Unfortunately the lack of customization might be enough to turn some gamers away.

While the new Sega Rally offers a satisfying rally experience, it seems to lack the spirit of the two arcade originals – all of the parts are there, but the soul of the series just doesn't seem to shine through.

The old king of rally is back. Who needs realism when the cars are this fun to drive and the world is so wonderfully vivid? What the game could have used is more variety in its tracks – and more tracks. [Oct 2007]

There are elements of Sega Rally Revo that provide some enjoyable moments, but too many irritations and issues get in the way of those moments.
This is great, takes me back to the days when sega rally was first launched in the arcades and i'm as hooked now as I was then. Graphics

are great, the cars, tracks and AI cars you race against are awesome. the only gripe is that it may be too easy to master for long term playability.

…

Expand

The handling of the cars feels quite good and it reminds me a lot of the original on the Sega Saturn. There are not really enough tracks thoug

h and the single player mode is quite short. The specialist cars that you unlock seem to be always worse than the stock cars (harder to handle and have no tire choice), there's really not much point to ever using them. The graphics are good by PSP standards.

…

Expand

Low on content and not really a rally game, as you race 5 other cars at the same time (more motorcross). Visuals not okay and so too is this game.