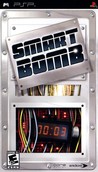 Summary:

Smart Bomb delivers a tense gameplay experience as players are faced with a series of fast paced, challenging 3D puzzles based around diffusing sophisticated AI bombs. Gamers are faced with a series of bomb modules split into tiers and each tier must be disabled to unlock the next. As a tier

Smart Bomb delivers a tense gameplay experience as players are faced with a series of fast paced, challenging 3D puzzles based around diffusing sophisticated AI bombs. Gamers are faced with a series of bomb modules split into tiers and each tier must be disabled to unlock the next. As a tier is disabled the player moves closer to the detonator at the core of the bomb which must be deactivated before moving onto a new challenge. Single player action includes story, arcade and challenge modes while multiplayer mode challenges four players in a series of head to head gaming action. [Eidos Enteractive]

…

Expand

Developer:

Core Design Ltd.

Genre(s):

Puzzle

# of players:

1-4

Cheats:

On GameFAQs

Rating:

E10+
Smart Bomb will make you alternately hate and love it. You'll swear, curse, kick and scream, and come back for more. If you're up to the challenge, Smart Bomb will give you one of the best puzzle experiences in years.

Many of the minigames simply aren't much fun the first time, but they become horrendously painful by the fifth try. In short, thie Bomb is a dud. [June 2005, p.137]

There are better puzzle games out there, and games that do not pretend to be something they are not.

The biggest thing that make this game get such a low score is non-responsive controls and framerate issues will make you want to slam your precious PlayStation Portable against a brick wall.

Unforgivably unresponsive controls and a series of poor structural choices quickly reveal themselves and deeply undercut every positive point the game provides. [July 2005, p.95]

By far the worst part of Smart Bomb is the loading screen.
Awesome game frustrating though at times, cause u gotta start the whole bomb over every time u screw up.

Short load times.Pretty good game, although it does get frustrating. Most of the even early level puzzles are challenging. An innovative game

Short load times.Pretty good game, although it does get frustrating. Most of the even early level puzzles are challenging. An innovative game for the PSP.

…

Expand

This may be the most frustrating game i've ever played. It is by far the worst game i've played for the psp. The controls fight

This may be the most frustrating game i've ever played. It is by far the worst game i've played for the psp. The controls fight while you try to figure out in 45 seconds how to acomplish complex goals. the screen shakes and can make it hard to see just whats going on and if you don't get one puzzle right you start from the begining of the level. I was looking forward to this one and hoped it would be a unique puzzle game but instead i get a steaming turd of a game.

…

Expand