Publisher:

SCEA

Release Date:

Nov 6, 2007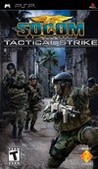 Summary:

In the midst of rising instability, insurgents have abducted the U.S. ambassador. Sanctioned by the Panamanian government, America's elite fighting force has been deployed to rescue and extract the ambassador. Take control of an entire SEAL team and engage in real-time tactical combat, where

you evaluate each situation, determine a plan of action, and then execute on your command. [Sony]

…

Expand
Developer:

Slant Six

Genre(s):

Tactical Shooters

# of players:

4 Online

Cheats:

On GameFAQs

Rating:

T
Like a sniper taking aim from out of nowhere, SOCOM: Tactical Strike sets sights on PSP and emerges as one of the year's best. Phenomenal visuals, tight tactical gameplay, and unparalleled multiplayer make this a must-have title.

A good addition to the series, albeit one that needs some special consideration. It's the black sheep of the SOCOM family and is in need of some refinement. It's close to greatness, but close only counts in horseshoes and hand grenades.

SOCOM: US Navy SEALs Tactical Strike is tactically unsound and just not very fun to play overall.
Wow, I just adore the gameplay, just stellar. Wooo!

A very nice package for us older gamers. It's still real time, but no twitchy aiming - you just give order to your team. Great game. The

multiplayer is a bit deserted and the few matches I tried were over a bit too quickly.

…

Expand

This comment is based on my demo impressions.

I have absolutely no clue whe the reviewers listed so far dislikes the game (5.0-7.5 range).

I like it a lot more than the syphon filter demo. Besides the reviews not listed here scores the game between 8 and 9.5. I will definately buy this game when it is released in Europe.

…

Expand

Worst socom ever made,i was expecting a new socom then it turns out to be real-time gameplay,do not buy or you will regret buying that game!!!

!!!!!!!!!

…

Expand