Publisher:

SCEA

Release Date:

Nov 6, 2007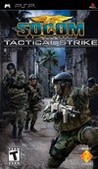 Summary:

In the midst of rising instability, insurgents have abducted the U.S. ambassador. Sanctioned by the Panamanian government, America's elite fighting force has been deployed to rescue and extract the ambassador. Take control of an entire SEAL team and engage in real-time tactical combat, where

you evaluate each situation, determine a plan of action, and then execute on your command. [Sony]

…

Expand

Developer:

Slant Six

Genre(s):

Tactical Shooters

# of players:

4 Online

Cheats:

On GameFAQs

Rating:

T
Like a sniper taking aim from out of nowhere, SOCOM: Tactical Strike sets sights on PSP and emerges as one of the year's best. Phenomenal visuals, tight tactical gameplay, and unparalleled multiplayer make this a must-have title.

Amazingly polished for such a dramatic change in design philosophy, and the fun you'll have playing it more than makes up for its troublesome camera, tepid multiplayer, and absence of actual bloodshed.

It's a tactical treat and a rather more accessible experience than previous games. [Christmas 2007, p.82]

A good addition to the series, albeit one that needs some special consideration. It's the black sheep of the SOCOM family and is in need of some refinement. It's close to greatness, but close only counts in horseshoes and hand grenades.

A finely-poised slice of real-time tactical action. Tactical Strike won't pry you away from the likes of Company of Heroes, and series purists may lament the loss of direct control, but it stands foremost of its genre in the handheld arena.

Although the A.I. can be stupid, the overall control interface is slick and setting up strategic attacks can be totally rad.

SOCOM: US Navy SEALs Tactical Strike is tactically unsound and just not very fun to play overall.
Worst socom ever made,i was expecting a new socom then it turns out to be real-time gameplay,do not buy or you will regret buying that

game!!!!!!!!!!!!

…

Expand