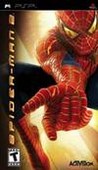 Summary:
As Spider-Man, players must master new combo moves as they protect the city of Manhattan from the nefarious Doc Ock and other classic Marvel villains by swinging, jumping and wall-crawling through 19 new levels that extend beyond the film. Featuring an unprecedented depth of gameplay, players experience original storylines and battle through graphically rich 3D environments. Swing, climb and web-sling through interactive 3D environments while experiencing scenarios, settings and characters based on the hit film and others that are exclusive to the game. In addition to Doc Ock, gamers must battle a plethora of characters in Spider-Man's legendary Rogue's Gallery of villains, such as Mysterio, Rhino, Shocker and Vulture. Utilizing the graphical power of the PSP, Spider-Man 2 delivers amazing console-like 3D graphics and incredibly immersive gameplay never before seen in a handheld Spider-Man game. Beyond Spider-Man's signature set of moves which include wall crawling, web yanking and capture webbing, Spider-Man 2 PSP brings a host of new moves to the handheld such as the "cocoon," "web net" and "heavy web ball." [Activision]
| | |
| --- | --- |
| Rating: | T |
| Developer: | Vicarious Visions |
| Genre(s): | Action Adventure, Sci-Fi, Sci-Fi, General, Linear, Open-World |
| Number of Players: | 1 Player |
| ESRB Descriptors: | Violence |
| License: | Movie |
Designer/Producer/Programmer credits provided by
GameFAQs
.
If you contributed to this game and feel you should be credited, please read our
FAQ
.
| | |
| --- | --- |
| | |
| | #51 Most Discussed PSP Game of 2005 |
| | #26 Most Shared PSP Game of 2005 |