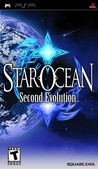 Summary:

Following the exploits of humankind's journey across the stars, the STAR OCEAN saga comes to life in the completely remastered STAR OCEAN: Second Evolution, exclusively for the PSP system. Now with a revised game engine, an improved battle system and fully voiced, all-new animated scenes

Following the exploits of humankind's journey across the stars, the STAR OCEAN saga comes to life in the completely remastered STAR OCEAN: Second Evolution, exclusively for the PSP system. Now with a revised game engine, an improved battle system and fully voiced, all-new animated scenes displayed in 16:9 widescreen, players can experience their journey through the rich STAR OCEAN universe like never before. [Square Enix]

…

Expand

Developer:

TOSE

Genre(s):

Console-style RPG

# of players:

1 Player

Cheats:

On GameFAQs

Rating:

T
Square Enix has done an admirable job of updating classic titles from its library and Second Evolution is just the latest example of their commitment to its loyal fanbase. [Feb 2009, p.70]

For the people that already own the original, you might want to give this one a go for the updated translation and added voiceover work, but there are not nearly as many changes here as there was in the first Star Ocean PSP title.

It may not stand out massively in the RPG world, but Star Ocean: Second Evolution deserves a lot of recognition for simply being an enjoyable, well scripted and interesting RPG.

Star Ocean: Second Evolution is a good remake. This Square Enix RPG joint offers original new ideas, a nice combat system and two main characters. On the other side, the pace is slow, difficulty level is too high and casual encounters are way too many. If you love RPGs, and you're looking for something new on the combat side, you should try it.

I realize that everything nice I've said has been rebutted with a glaring flaw, but this is a really great game. If you missed it on the PS1 and you like classic RPGs, then you really owe it to yourself to play this, though you may want to turn the sound off to avoid the bad voice-acting.

The original Star Ocean: The Second Evolution was, somewhere in the past, a very good game. The beautiful surroundings, lengthy gameplay, extended skill system and a decent story will satisfy most of the RPG-gamers. Nevertheless, Star Ocean isn't the same game as it was a couple of years ago.

The excellent qualities of Second Evolution are always at war with its meandering, trifling aspects.
This remake of Tri-Ace's Star Ocean the Second Story is very well done. It like the original game is filled with a great story and great

This remake of Tri-Ace's Star Ocean the Second Story is very well done. It like the original game is filled with a great story and great characters. Like in the original story there are many optional characters to choose from and this makes the game fun to play over again. Also this game is an improvement on the original title with the addition of playable characters and the addition of cutscenes. If you are a fan of the original game or a fan of the Star Ocean series you will enjoy this game. If not the battle system enough should be enough to make anyone enjoy this game.

…

Expand

In just less than 6 months apart, Squareenix remakes the Star Ocean 2 game for the PSP. Fans who loved the original will love this new remake

In just less than 6 months apart, Squareenix remakes the Star Ocean 2 game for the PSP. Fans who loved the original will love this new remake as it includes a few new changes, new graphic interface and more fluid animation than its PS1 version. Other than that nothing much noting other than the new remixed Original sound track and a few new additions such as remade Cutscenes.

…

Expand