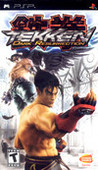 Summary:

TEKKEN: Dark Resurrection arrives on the PSP. New characters Lili and Dragunov join the classic cast such as Jin, Heihachi, Paul and Law in the battle to be crowned King of the Iron Fist Tournament. An all-new intro movie lets you dive into the midst of the world of TEKKEN, this time with

ad-hoc multiplayer mode to fight against friends as well as more items to customize your favorite characters. The beauty of TEKKEN is re-created on the handheld console, delivering one of the most realistic graphics on a handheld platform. A variety of destructible objects pump up the action on 19 stages. Play as one of over 30 characters, including classics Jin, Heihachi, Paul, Law and more. New characters Lili and Dragunov join the classic cast with all-new fight styles and moves. Collecting victories to lead your character to become king rewards you with ending movies for each character. Use your fight money to customize your characters – with more than double the items seen in TEKKEN 5. Using Wi-Fi connectivity of the PSP platform, you can battle against your friends – take your customized, original character against theirs and let the battle unfold. Mini-games provide a little breather from heart-pumping fighting action for more fun against friends. [Namco]

…

Expand

Developer:

Namco Bandai Games

Genre(s):

3D

# of players:

1-2

Cheats:

On GameFAQs

Rating:

T
This will feel fresh and immediate even to those whose Tekken-love was waning. It's engaging, exceptional and essential. [Sept 2006, p.82]

Virtually guaranteed to become an instant classic. It's fast, furious, fun and fantastically florid and flagitious.

This PSP Tekken manages to be everything you could possibly want from a portable 3D fighting game...and a whole lot more!

Tekken: Dark Resurrection PSP could have been better, but when the only notable problem with the game – its repetition - is a genre wide problem, then you know you have a winner on your hands.

Its arsenal isn't as robust as it could be, but it makes up for it with a flurry of awesome modes and some deadly fast gameplay.

The conversion is spot on, the graphics, sound and control are superb, and short bursts of the single-player are a joy. It's such a shame, then, that the multi-player is a let down. [Sept 2006, p.108]
Excellent! I love this game.

Quite simply the perfect handheld fighter and one of the most stylish, most polished and generally awesome fighting games on any platform.

The lack of wireless online almost made me give it a 9 but I don't consider this a flaw with the game itself. The moves and graphics are incredible. To master your favourite 4 or 5 characters would take a very long time, while Tekken Dojo mode reaches near impossibe levels once you become a Fujin. This also adds a lot of depth. Outstanding.

…

Expand

Nothing can beat this. Tekkens always been the best fighting game for me.

Despite being exactly like Tekken 5 for PS2 in every way, shape, and form, despite 2 new characters, it is, along with the GTA's, the

greatest game for the PSP.

…

Expand

Hands down, the best portable fighter ever released(...and I am far from a fan of the franchise, prefer DOA and Soul Calibur on the

consoles). If they can do this now, just wait a few more years...PSP is starting to look somewhat like a handheld PS2. I'm starting to really like my PSP again (up until recently it was mostly used as an MP3 player, but boy oh boy are things starting to look up again gamewise.

…

Expand

This game is awful, it is too easy, there aren't enough things to do and every character feels the same. Terrible D-Pad.