Publisher:

Ubisoft

Release Date:

Mar 21, 2006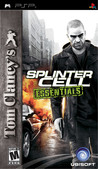 Summary:

After learning about the death of his daughter, Sam Fisher is nowhere to be found. When Homeland Security agents finally locate Fisher in New Orleans, their worst fears are realized. Surveillance photos show Fisher in the company of Emile Dufraisne, a known domestic terrorist. Third Echelon

wants answers: why did their best agent throw away decades of service to forces with terrorists? As Sam defends himself, he will tell a story no one suspected. Tom Clancy's Splinter Cell Essentials starts where Tom Clancy's Splinter Cell Double Agent ends, and takes players to the years before Tom Clancy's Splinter Cell when Sam was still a Navy Seal. Full immersion in Tom Clancy's Splinter Cell universe: Takes players deep into the saga of Sam Fisher – with missions from Tom Clancy's Splinter Cell, Tom Clancy's Splinter Cell Pandora Tomorrow, Tom Clancy's Splinter Cell Chaos Theory. and Tom Clancy's Splinter Cell Double Agent. Discover the entire Splinter Cell series through flashbacks and brand new missions. A game of gadgets for your gadget: Features all the weapons and gadgets from the Tom Clancy's Splinter Cell franchise, in addition to some new ones exclusive to the PSP system version. Accessible Wi-Fi multiplayer: Challenge your friends in Spy vs. Spy Deathmatch multiplayer mode. [Ubisoft]

…

Expand

Developer:

Ubisoft

Genre(s):

Modern

# of players:

1-2

Cheats:

On GameFAQs

Rating:

M
I wish I could say that a lack of true wireless online gameplay and sometimes frustrating controls would make me want to not play Splinter Cell: Essentials. But then I would be lying. The missions and the level designs make the game so fun overall to play that it hides some of the weaknesses in the controls.

In the areas Essentials does well, it excels, but what it doesn't do well keeps it from the must buy list for all but the most hardcore Sam Fisher fans unfortunately.

The PSP has no camera-maneuvering second analog stick, making the spy's portable debut a frustrating chore. [Jun 2006, p.85]

While its interesting story ties in with the upcoming Splinter Cell: Double Agent for the major consoles, an interesting plot just isn't enough to distract us from the poor visuals, atrocious controls and long load times.

Unfortunately, due to some bad controls, oppressively dark levels, and a worthless multiplayer mode, the result is a game that is more frustrating than it is rewarding.

The game does feel rushed, but with a scarcity of militaristic shooters, this Splinter Cell title, though flawed, isn't a horrible choice for PSP owners looking for a stealth-action fix.

Controls are so poor that Sam might as well be fighting the forces of evil blindfolded. [July 2006, p.92]
Amazing game indeed. Played it through holding my breath! Stealth elements are made very well, the storyline is also catchy.

This is an amazing game. the graphics are very good although i found that for most of the game i had to play using night vision. I like how

splinter cell essentials tells the whole story of the splinter cell saga through the different missions.

…

Expand

I have all of the Splinter Cell games and like them all. This one is basically the same as all the rest except the camera controls are a

little hard to use so if you liked all of the previous SC games this one is about the same as all the rest.

…

Expand

when I got this game on easter sunday it looked ace from the back. But when i started it was bad the controls were horrible and it was really

hard but when i got into it it was very good. The stealth is top class. I never liked Splinter Cell games until i played this i think it has won me over!

…

Collapse

The first few levels do not impress, the controls are uncomfortable at first (especially if you have been playing SOCOM and Syphon Filter),

and re-loading from a Checkpoint takes longer than I would like, but... ...I am really enjoying this game! Graphics: Weak in the early, outdoor, missions - GREAT in the indoor missions. And NO framerate issues that I could find. The environments also have lots of stuff in them - not the empty rooms that you see in SOCOM (I love SOCOM, btw). The controls are fine. Really. And you may prefer the Alternative setting, which is very close to the default setting in Syphon Filter (analog stick move you, buttons on the right aim). I do fine with the default controls given that this is a splinter cell game - so I spend time stationary and looking around. Just hold down the circle and freelook with the analog stick. Works just fine, thank you. And the level design is really good. These are FUN levels and I don't feel the need for super-duper precise timing or having to have a Walkthrough handy to get through the levels. I'm on Mission 9 now (NSA) and I'm not an expert gamer by any means. I've also found how to unlock all three of the bonus missions.

…

Expand

All I can say is get Syphon Filter not this game!