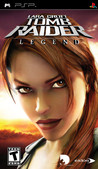 Summary:

Tomb Raider: Legend revives the athletic, intelligent and entertaining adventurer who won the hearts and minds of gamers worldwide. Lara comes alive with intricately animated expressions, moves and abilities. An arsenal of modern equipment, such as a magnetic grappling device, binoculars,

frag grenades, personal lighting device and communications equipment, allows gamers to experience tomb raiding as never before. Eidos and Crystal Dynamics shaped Lara's look and movements to be an inherent extension of her skills, motivation and personality. Lara's character model features natural structure, realistic textures, detailed facial features, reactive eyes and fluid motion, all of which make her part of a living environment. New character animations and controls allow her to move through stunning environments with grace and precision, while an understanding of the game's original appeal reinvigorates the fundamental explore-and-solve adventure experience. [Eidos Interactive]

…

Expand

Developer:

Buzz Monkey

Genre(s):

Modern

# of players:

1-2

Cheats:

On GameFAQs

Rating:

T
But if you like to game on the go, Tomb Raider Legend is a solid little addition to the PSP library, and an adventure that is worth experiencing on any console. [July 2006, p.113]

As a near-perfect recreation of the PS2 version, PSP Legend is a staggering technical achievement. [July 2006, p.63]

The sequel we've all been waiting for since the original Tomb Raider hit PSone. But not as lovely on PSP, so get the PS2 or 360 version!

All in all, we recommend Tomb Raider: Legend to fans and non-fans alike, but you might be better off picking up a copy of one of the console versions. Either way, it's nice to see Lara back in action, and we're hoping that we'll be seeing more of her tomb-raiding exploits in the future.

The genius of the exploration in the game still shines through. Tomb Raider: Legend deserves to be played, but should only be played on a PSP if you do not have an Xbox 360, PlayStation 2, Xbox, or a capable PC.

In the process of being brought to the PSP, Legends changed into an occasionally enjoyable though altogether disappointing title that mimics much of Laura's older works than the material it supposedly draws from.

While it's amazing that Eidos was able to cram the entire game into the PSP, it simply doesn't excuse the fact that they broke it in the cramming.