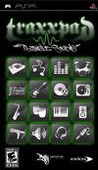 Summary:

Traxxpad: Portable Studio turns your PSP into a music studio. The power of a drum machine, sequencer, mixer and sampler is now portable. Produce, record, mix, sequence, share, sample and export your own original music and sounds. Record the sounds around you or choose from over a thousand so

unds and kits provided. Export to mp3 and make your own ringtones and CDs. [Eidos Interactive]

…

Expand
Developer:

Definitive Studios

Genre(s):

Rhythm Games

# of players:

1 Player

Cheats:

On GameFAQs

Rating:

E10+
Want to make an a capella trance song using only your voice? Want to sample a child's nursery rhyme and turn it into a new hip-hop beat? Want to lay down the thickest, sickest breaks you can think of? Traxxpad lets you do it, and it rocks.

It takes some patience and dedication to learn, but it is well worth the effort.

Traxxpad is an interesting application for creating songs or techno sounding beats. There is something here if you're interested in creating music on your PSP but this is not for the quick and easy music buff.

Traxxpad fails no matter what way you look at it. If it's meant to be a game, something for casual players to noodle with to make some loops and show off, then it bombs because it's absurdly difficult to figure out for no good reason. I haven't encountered sound gear this hard to figure out or use since the Roland W-30. If this is meant for professionals, then why a platform with little access to new sounds or updates, and why no MIDI?
Difficult to learn, but fun to make music with.

This "game" is not a game at all, but a music studio workstation with a limited set of modules. I for one bought this and would advise anyone

not to waste their $40 on this product. Go buy Electroplankton instead if you want to feel like you're making music or something. The interface is just too damn difficult and the learning curve is high. I have "played" with this for over 2 hours and really feel like I am still struggling with the product. And I am an experience music producer. My feeling is they spent too much time trying to jazz up the interface rather than make it usable. I would say this is good for the teenagers who wanna create beats to rap or beatbox too, since I'm sure they have more patience than I. I will be trading in this product back to the store and buy something fun.

…

Expand

It's not as good as the reviews indicate. I imported this as soon as I heard about it because I've been waiting in desperation for

a good PSP sequencer to sketch out the ideas that (invariably) hit me on the way to or from work. Then I could go home and program them properly with proper synths, guitars etc in my studio. Unfortunately, the user interface is so astonishingly bad that the software can't fulfil this function. This is nothing like Cakewalk, Logic or any "real" sequencer - it has a dreadful gimmicky front end with a very broken separation of the sequence, melody and arrange windows. If you have a musical idea, rest assured, by the time you've fought your way through choosing an instrument and working around the poorly-laid out "melodee" window, you'll have forgotten it. Even if you've disabled the stupid dancing robot animations. The sounds are poor but that doesn't matter for a sketchpad; however, what is unforgivable is the total lack of ease of use. I'm good with this sort of thing; the very first game I ever had on a PSOne (and the reason I bought a PSOne) was Codemasters' Music, and I've used various console iterations since, in addition to ten years programming vintage synths using Logic. This thing is aimed squarely at ADD-troubled kids who want to cobble together piffling hip-hoppy loops without really knowing what they are doing (hence the soundset full of clunky West Coast percussion stabs and mock record crackles). I challenge anyone to program anything more complex in a meaningful way. Perhaps Beaterator will be better - fingers crossed. This, I'm afraid, is a titanic disappointment.

…

Expand