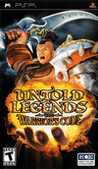 Summary:

While struggling to evade capture and death in the war-ravaged wilderness, some of these shape-shifter refugees stumble upon a carefully guarded and stunning secret that rekindles hope for freedom and peace to the realm. Can these refugees-turned-heroes bring the last surviving heir of the

While struggling to evade capture and death in the war-ravaged wilderness, some of these shape-shifter refugees stumble upon a carefully guarded and stunning secret that rekindles hope for freedom and peace to the realm. Can these refugees-turned-heroes bring the last surviving heir of the dynasty to the capital city or will they lead him to the warlord's hand, dooming their race into extinction and their human cousins to endless oppression and strife? Untold Legends The Warrior's Code builds upon the success of the original through an all-new, epic storyline brought to life through dramatic in-game cinematics, a completely new combat experience and enhanced 3D graphics featuring improved graphics, special effects and lighting. Players now experience an evolution in the action-RPG genre through an upgraded combat engine designed for strategic combat, a wider variety of combat moves and special abilities, interactive boss battles with unique AI, and dynamic attacks of opportunity. [SOE]

…

Expand

Developer:

Sony Online Entertainment

Genre(s):

Action RPG

# of players:

4 Online

Cheats:

On GameFAQs

Rating:

T
Warrior's Code is one of the better action/RPG's to hit the market recently, on any platform. [Apr 2006, p.133]

The adventure that the programmers originally had in mind is finally at hand, complete with multiplayer options galore, a lengthy adventure, and a presentation that's stellar.

If you enjoy constant hours of hacking and slashing your way through enemies, then Untold Legends: The Warrior's Code is a game that is highly recommended. Otherwise, be careful.

While Untold Legends: Warrior's Code is definitely an improvement upon its predecessor, there are major drawbacks including bland level design and nonsensical button-smashing.

The Warrior's Code essentially has forgotten when to say no. Pulling itself outward in every direction at once, it stretches thin where it should be richest: at its core. [June 2006, p.95]

The basics are creatively executed, but, while enjoyable, the resultant experience falls far short of reinventing anything – let alone brilliance.

The online mode, featuring co-op play and deathmatches for up to three other players, almost salvages the game, but the sheer tedium of the rest of it sinks it.
I thought that it was a great overall game. The single player mode has quite a few levels, and the online play is amazing. There is a wide

I thought that it was a great overall game. The single player mode has quite a few levels, and the online play is amazing. There is a wide variety of monsters, weapons, and armour. The spells are pretty cool too. This game is a must-have. Once you pick it up you wont want to put it down.

…

Expand

Awesome gameplay, amazing graphics, and the most exiting RPG game out for PSP.

I have been following S.O.E for some time now. From the adventures through Norath 1 and 2 as well as "Brotherhood of the Blade" I've

I have been following S.O.E for some time now. From the adventures through Norath 1 and 2 as well as "Brotherhood of the Blade" I've always enjoyed the genre however this new installment blew me away completely. S.O.E. never jeopardized game play by adding cinema tics before and here they are improving the game play and adding movies...yummy... I really enjoyed the change in the character class from The Everquest series personalizing the roles made it more interesting for me. Plus the change to the ability trees I found much more advantageous but you could also really mess up a character. "Over specialize and breed in weakness". Gummy graphics cool characters great story gimmy more I can

…

Expand

The game is one of the best looking PSP game, but the crappy camera angle makes it impossible to see its greatness. The game is bland, I

The game is one of the best looking PSP game, but the crappy camera angle makes it impossible to see its greatness. The game is bland, I mean all you do is run through bland environments, and hit the X button. I left this game on my shelf after the first nine quests out of 32 and I don't intend to pick it back up. It has no addictiveness like Diablo did. I suggest that you don't even buy this game unless you enjoyed the original (it was improved) or you just won 100 billion dollars in the lottary.

…

Expand

Undoubtely better than the first Untold game, but it's still just an average hack-n-slash RPG. Nothing really stands out from the

Undoubtely better than the first Untold game, but it's still just an average hack-n-slash RPG. Nothing really stands out from the crowded RPG market at all. Run around through boring environments and endlessly mash the attack button pretty much sums up the entire game. It gets old fast, and it's anything but a legendary game. The online does little to salvage it, since in-game communication is nonexistant. Odd since more games are using the PSP Headset now, that this game would leave it out. It's worth a rent, but nothing more.

…

Expand