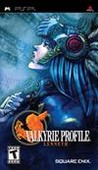 Summary:

Asgard, the realm of the gods, remains locked in an eternal struggle between the benevolent Aesir and the demonic Vanir. With the end of the world approaching, Odin, Lord of Asgard, summons Lenneth Valkyrie to his side. Possessing the ability to hear the thoughts and feelings of men and wome

n in their dying moments, he charges Valkyrie to search Midgard, the world of mortals, to recruit and train the souls of worthy warriors to join the ranks of the Aesir in the Sacred War. Valkyrie Profile: Lenneth brings the classic PlayStation® game console title, originally released in 2000, to the PSP system with completely new CG cut scenes. tri-Ace, the developers behind the acclaimed Star Ocean series and "Radiata Stories", introduce new fans to the spectacular combo attacks, unique side-scrolling environment, and gripping storyline that first captivated players six years ago. To give players a deeper understanding of the plot and to complement the game's dramatic storyline, additional CG cutscenes have been incorporated. Some of these new scenes contain links to the story of "Valkyrie Profile 2: Silmeria." [Square Enix]

…

Expand
Developer:

TOSE

Genre(s):

Role-Playing

# of players:

1 Player

Cheats:

On GameFAQs

Rating:

T
On its own merits Valkyrie Profile is easy to recommend, but given the relative lack of high quality RPG's on the PSP, it's a definite must buy.

Easily the best domestic RPG on the PSP to date. The game itself is incredibly unique and fun to play. The portability is both a blessing and a curse, allowing one of the PSOne classics to be played on the go, but limiting you to a four inch screen.

At the end of the day, you've got a fairly good port of a PS1 title with a few new bells and whistles which are greatly appreciated, but are left with a few old nagging issues.

Questionable suitability for portable play aside, this is probably the best role-playing game yet for PSP.
VP is truly a classic. Its compelling story and Unique battle system make it a must for any J-RPG fan. Top that with amazing characters and a

n unlockable secret dungeon and you got an unforgettable gaming experience.

…

Expand

The game on my stand-point, the story was very emotional, very good.
Half of the time it would bring a tear to my eye (why you ask?).
In this game you play as a Valkyrie who is sent down to collect warriors to fight for the gods but before finding the warrior, it shows the that person is like and what his/her life is, upon reaching their deaths, the Valkyrie approaches the person and leaves what I call symbolic and metaphoric (add to the music thats being played upon their deaths).

But the one thing that affect it for me to leave it at a 8 was because of the side-scrolling maps, they're way to annoying but it was a good play.

…

Expand

I enjoy this game, somewhat. What