Publisher:

Capcom

Release Date:

Mar 22, 2006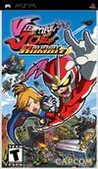 Summary:

Production on the newest Captain Blue movie is just about to begin. Unfortunately he can't seem to decide on the lead character. Now it's up to gamers to be the star of the show and 'audition' to see who will take the leading role in this big action extravaganza. An all-star cast of new and

familiar playable characters will be available in this intense versus-fighting game including Captain Blue Junior, Sprocket and other original characters from the popular Japanese TV animated cartoon series. With completely new movie set designs and two player cooperative gameplay, there is an exuberant amount of action that extends beyond the silver screen. New versus gameplay for the Viewtiful Joe universe: The gloves come off during the 'audition' as players participate in this intense versus fighting action; a first for the award-winning series. All-star cast of playable characters: Reacquaint yourself with familiar faces or discover new and original characters from the TV anime series including Sylvia, Alastor, Sprocket, an ice princess that intimidates people with her cold stares, and Captain Blue Junior, Captain Blue's sidekick who calls himself 'Junior'. Interactive environments: In addition to new set designs, players will be able to use enemies and background elements to attack their opponents. Two different modes of play – Choose between one or two player cooperative mode. [Capcom]

…

Expand

Developer:

Clover Studio

Genre(s):

Beat-'Em-Up

# of players:

24 Online

Cheats:

On GameFAQs

Rating:

T
Absolute chaos but brilliant fun, this fast and furious fighter is exactly the type of adrenaline-rich game PSP was made for. [June 2006, p.92]

Despite my annoyances with the controls and hit detection, there's plenty to enjoy in Red Hot Rumble, particularly if you're a huge fan of the show or the game series. The deep roster of characters is impressive, as is each one's unique attacks and abilities.

The game is good fun if a little frustrating. Fans of the original might be a little miffed by the drastic shift in dynamic, but as long as you recognize that this isn't just a side-scrolling beat 'em up, you should be pleasantly surprised.

The gameplay itself is nothing more than a fancied up button mashing tournament with a sense of claustrophobia so apparent, you'll be looking to open a window after the first ten minutes, just for some fresh air.

For gamers who like things categorically insane, you're looking at a go-to, button-mashy party game.

A slightly improved port of the GameCube multiplayer party combat game, but it's still too chaotic and random for anyone born before the '90s. [May 2006, p.92]

Some high points aren't enough to counteract the amount of confusion that reigns on the too-small screen, though, and we're left with a somewhat average title.
this game sucks, is hrrible. After you beat the game you have to re-beat it just to unlock the rest of the movies. Who ever made this game

ijust got to tell you one thing QUIT! making games is not your thing.

…

Expand