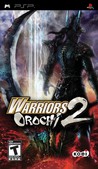 Summary:

Shattering time and space, the venomous Serpent King Orochi kidnapped the Dynasty Warriors and Samurai Warriors in scheme to test his might. The heroes eventually defeated Orochi and his menacing army. While the slain Orochi lies in the netherworld, a mysterious alliance is hatching an

Shattering time and space, the venomous Serpent King Orochi kidnapped the Dynasty Warriors and Samurai Warriors in scheme to test his might. The heroes eventually defeated Orochi and his menacing army. While the slain Orochi lies in the netherworld, a mysterious alliance is hatching an otherworldly plan so that the Serpent King may rise again. Now a new group of warriors must join forces with history's finest in an effort to stop this evil resurrection. Warriors Orochi 2 takes place after the events of the original game. The game's main "Story" mode features storylines for the kingdoms of Wu, Wei, and Shu, and the Samurai Warriors, while a new Orochi storyline looks back to the first series of wars to expose some of the Serpent King's secrets. The game's newly added "Dream" mode features an original storyline different from that of Story Mode. A new two-player "Versus" mode comes action-packed with four different games including "Tag Team" matches that pit individual fighters in lethal head-to-head combat. The popular "Team Battle System" which lets players create their own three-person fighting unit returns for this sequel. At any given time, one warrior will be engaged in battle, while the other two are recuperating; restoring their Life Meters and Musou Gauges. Warriors Orochi 2 features an overwhelming lineup of over 90 playable characters from both franchises including Samurai Warriors 2 Extreme Legends, plus new characters from Chinese and Japanese history. [Koei]

…

Expand
Developer:

Omega Force

Genre(s):

Action

# of players:

2 Online

Cheats:

On GameFAQs

Rating:

T
Simply put, this is one of the most value-packed UMDs ever created. Yes, you have to still love slaughtering (sorry, KOing) enemies by the thousands, but the number of modes, characters and upgrade options are without peer.

Basically, if you want a portable DW experience, Warriors Orochi 2 is the way to go. It's the best version of the series on the PSP so far, and you can tell that KOEI is getting better and better at porting the console experience over mostly intact, so it's absolutely worth buying for fans.

While Warriors Orochi 2 faithfully captures the feel of the console version, the new additions make this a far more refreshing version fit for the PSP.

Warriors Orochi 2 is tolerable on the PSP and all the leveling can be somewhat fun, but ultimately this is a repetitive, visually unappealing experience that reiterates what we've seen in all of the game's predecessors -- and there have been many predecessors.

There's a definite emphasis on quantity over quality in Warriors Orochi 2, and not just in the numbers of mindless soldiers you slice through. The amount of content is frankly overwhelming if you're one of those completist-types, and the drive to level up every character may appeal to those who have a lot of time to kill while traveling.

Ultimately, Warriors Orochi 2 takes an already tarnished franchise and further beats it into the ground.

For everyone else, if you're thinking of getting into the Warriors games with this one, well, don't. Save your hands and your time for something better.
| | |
| --- | --- |
| | |
| | #47 Most Discussed PSP Game of 2009 |