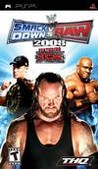 Summary:

WWE SmackDown! vs. Raw 2008 lets players take the fight into their own hands with the debut of Superstar Fighting Styles. The game features eight unique styles, each having its own strategy and exclusive attributes. A brand new Struggle Submission System gives players intuitive and natural c

ontrol over their WWE Superstars by using the game's popular analog controls. Realism and strategy are at the forefront, as players now control the amount of pressure they apply to their opponents. In addition, WWE SmackDown! vs. Raw 2008 features a significant Extreme Championship Wrestling (ECW) presence, including a variety of Superstars, arenas and weapons. The game is also packed with significant updates requested by fans, including new rosters, more environmental hotspots, a combined Season and General Manager Mode experience, improved out-of-ring action, enhanced online community support and much more. [THQ]

…

Expand
Developer:

Yuke's

Genre(s):

Wrestling

# of players:

1-4

Cheats:

On GameFAQs

Rating:

T
The PSP is hot again and SmackDown vs. Raw 2008 for PSP is along for the ride; but it doesn't measure up to Silent Hill: Origins, Final Fantasy Tactics: War of the Lions, Disgaea: Afternoon of Darkness or Jeanne d'Arc.

A mild improvement for PSP, but you really want to play on a big telly. [Dec 2007, p.46]

WWE Smackdown vs. Raw 2008 pushes the series marginally forward with a focus on creating a more personal touch with the unique fighting styles and updated visuals. This doesn't mean Yuke's is out of the clear, the really buggered up the merger of the 24/7 and GM modes in this edition which causes the season mode to feel out of synch and unfocused.

Even with the few good changes and the inclusion of the ECW stable, the awful controls, murky graphics and a rushed 24/7 Mode just hold this game back from being a franchise favorite among fans.

I found the controls off-putting and the lack of detail sad, but the big name modes -- Tournament, Money in the Bank, TLC, GM, etc. -- that make up the console versions are packed in here for you to digest on the go.

There's no excuse for the clumsy control system that saps the joy from the experience. [Jan 2008, p.79]

The odd control changes, some pretty bad graphics and presentation, and problems in half of the 24/7 mode, make the PSP iteration the bottom feeder of every available version. Avoid this, and wait to see how SvR '09 turns out.
Even though the graphics are average the new styles of wresting make this game great.

Could've been better. The game is a bit clunky in controls. It's fun,though. The main reason I keep coming back is GM Mode.Something about GM

Mode just makes this game for me.Sound is OK.Some of the songs could be better.They're generic but are burned into your mind.The roster could be better,but it's not bad.The visuals are good for 2007 and the PSP.Not the best SVR game,but not the worst.It's average.A 6/10 an enjoyable game that falls short of greatness.

…

Expand