Publisher:

Atlus Co.

Release Date:

Sep 16, 2008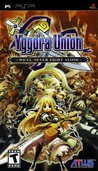 Summary:

Yggdra Union is a card-based strategy RPG for the PSP. For years, strategy RPG fans have accepted repetitive, non-interactive battle sequences as the genre standard; few games have dared to break the mold. Yggdra Union blows through, shattering the mold into tiny, unrecognizable bits. Experi

ence a fresh mix of turn-based strategy and real-time action, constantly engaging the player and providing intense gameplay combined with tactical card-based combat. Originally released for Game Boy Advance, Yggdra Union is remade and loaded with enhancements, including fully remastered audio and visuals (featuring the artwork of famed character designer and manga artist Satoko Kiyuzuki), fully-voiced dialogue in both Japanese and English, a widescreen aspect ratio, additional difficulty settings, new unlockable content, and more... all exclusive to the PSP system. [Atlus USA]

…

Expand
Developer:

Sting

Genre(s):

Role-Playing

Cheats:

On GameFAQs

Rating:

T
Although its overzealous combat system takes some getting used to, Yggdra Union is a rare gem that manages to stay interesting after hours and hours of playtime. In my opinion, it's a must-have for PSP owners and it is, without a doubt, one of the best titles I've played this year.

With simple, yet strategic gameplay, excellent voice acting, cute graphics, and decent dialogue, all improved from its GBA counterpart, it's definitely worth the pickup.

Overall, if you missed this on the GBA and like a challenge in your RPGs, then Yggdra Union will be right up your alley.

I thoroughly enjoyed the opening moments of each map, looking over the terrain for bonuses and counting moves to make sure that I engaged the enemy with the perfect formation. After that, it was back to 20 minutes of occasionally pressing one button to keep my little soldiers swinging in the most non-violent war this side of a NERF fight.