Publisher:

Atlus

Release Date:

Sep 16, 2008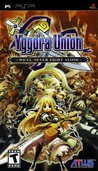 Summary:
Yggdra Union is a card-based strategy RPG for the PSP. For years, strategy RPG fans have accepted repetitive, non-interactive battle sequences as the genre standard; few games have dared to break the mold. Yggdra Union blows through, shattering the mold into tiny, unrecognizable bits. Experience a fresh mix of turn-based strategy and real-time action, constantly engaging the player and providing intense gameplay combined with tactical card-based combat. Originally released for Game Boy Advance, Yggdra Union is remade and loaded with enhancements, including fully remastered audio and visuals (featuring the artwork of famed character designer and manga artist Satoko Kiyuzuki), fully-voiced dialogue in both Japanese and English, a widescreen aspect ratio, additional difficulty settings, new unlockable content, and more... all exclusive to the PSP system. [Atlus USA]
| | |
| --- | --- |
| Rating: | T |
| Official Site: | http://www.atlus.com/yggdraunionpsp/ |
| Developer: | Sting |
| Genre(s): | Role-Playing, Strategy, Turn-Based, General, General, Historic |
| ESRB Descriptors: | Mild Fantasy Violence Mild Language Mild Suggestive Themes Partial Nudity |
Designer/Producer/Programmer credits provided by
GameFAQs
.
If you contributed to this game and feel you should be credited, please read our
FAQ
.
| | |
| --- | --- |
| | |
| | #37 Most Discussed PSP Game of 2008 |
| | #5 Most Shared PSP Game of 2008 |