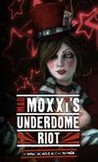 Summary:

[Xbox Live Arcade] Mad Moxxi's Underdome Riot is an add-on pack for Borderlands that includes a new cooperative arena game mode and a stash to store your gear. Are you god's gift to gun fights? Think you're the best? Wanna prove it? Then help us celebrate the grand opening of Marcus Bank (a

subsidiary of Marcus Corp) by killing hundreds and hundreds of people in Mad Moxxi's Underdome Riot, the only competitive arena around where your next of kin can be assured that you're coming back famous . . . or not at all. [Microsoft]

…

Expand
Developer:

Gearbox Software

Genre(s):

First-Person Shooters

Cheats:

On GameFAQs

Rating:

M
Borderlands' latest DLC has shown me the combat rhythm I've naturally settled into: the regular back and forth between whittling away at enemies with SMGs before disappearing in a puff of magic, to either slink off and let my shield charge up again, or pop up behind an unfortunate bruiser in order to blast chunks out of their neck with a shotgun.

Mad Moxxi's Underdome Riot is the faster and brainless version of Borderlands, offering a nice and unexpected turn from its main gameplay.

Mad Moxxi's Underdome Riot is a worthwhile addition to Borderlands that will give you more reasons to keep your disc spinning. The action is fast, and the tournament style really takes to the creative gunplay in Borderlands.

Gearbox have gone slightly astray with this DLC, it's certainly not on the same level as their previous effort.
It's worth the money. It adds hours of game. 3 arena's, 25 waves a piece broken down into 5 rounds the 1st time around. Then you do

them again with the difficulty up and 100 waves each in 20 rounds. The bank is pointless, unless you like to run around with tons of useless junk in your inventory all the time.

…

Expand

I don't regret my purchase one bit, but there are some annoyances (mostly sound-related). It's really best for co-op, and the addit

ion of a bank is useful.

…

Expand

The weakest of the DLC for the first Borderlands game. This DLC is definitely intended for co-op as playing alone feels like an overwhelming

waste of time. Repetitive wave after wave of bad guys makes this one mediocre at best.

…

Expand

As many others have stated, this DLC takes probably the most lacking part of Borderlands (i.e. the shooting) and puts it in the spotlight. Wit

h no experience or equipment to gain, the core of the game is removed and make Moxxi's an unsatisfying DLC. The arenas add extra length, but they are so boring and repetitive it becomes old fast. Arenas also take around 2-4 hours to complete with no save points, making it a slog to the finish. If you are going to buy the Borderlands DLC, I would skip this one.

…

Expand