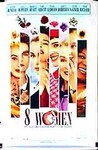 Summary:

When a wealthy French family gathers for Christmas, their country estate is thrown into an uproar when the father of the family is murdered. The only possible suspects are the eight women in the house, each of whom has secrets and a motive to kill him.
Director:

François Ozon

Genre(s):

Mystery

,

Comedy

,

Crime

,

Musical

Rating:

R

Runtime:

111 min
So original, so funny, so alive with drama, intrigue, mystery and colors that you want to see it again and again.

One of the most uplifting and delightful films to have come along this year.

It's pretty safe to say that claustrophobic, gay-themed murder mysteries haven't been this much fun since "Deathtrap."

Even if some of the references are inscrutable, a lot of 8 Women is a riot. Here and there Ozon finds the key to a level of farce that would have amused Bunuel himself.

The cast is the main attraction in Francois Ozon's witty, even touching 8 Women.

For all its careful plotting, some viewers may find the exercise ultimately hollow and nasty, but thesps make the experience completely worthwhile.

For all the tumultuous entrances and flouncing exits, the eight principals manage maybe three laughs among them.
Boring and tedious. I fast-forwarded during the ludicrous musical numbers after enduring the first few. Deneuve looks like hell. What a

Boring and tedious. I fast-forwarded during the ludicrous musical numbers after enduring the first few. Deneuve looks like hell. What a relief when it was over.

…

Expand