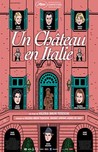 Summary:

A family is forced to sell their Italian home.
Please enter your birth date to continue:
You are not allowed to view this material at this time.
It's Bruni Tedeschi's sure grasp of the milieu – and in particular her acute understanding of the specific foibles of a rich, arty but out-of-touch class nostalgic for an earlier era – that makes the film a modest but surprisingly substantial delight.

Bruni Tedeschi holds all of pic's myriad tangents in a delicate balance, no single one ever rising to the fore, no pressure felt to wrap everything — or anything — up in a tidy package at the end.

For every moment of comedy that lands or drama that touches a nerve, there are ten of "why the bloody hell should I bloody care?" or "cry me a river, you had to sell your Brueghel."

The jittery storytelling and indifference toward illuminating character or plot detail would already be tiresome even without the gratingly actor-y performances, the director herself being the main offender.

A strained jeu d'ésprit which is smug, precious, carelessly constructed, emotionally negligible, and above all fantastically annoying. It's a terrible waste of real acting talent.