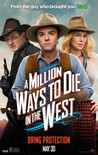 Starring:

Amanda Seyfried

,

Charlize Theron

,

Liam Neeson

,

Neil Patrick Harris

,

Sarah Silverman

,

Seth MacFarlane

Summary:

After a cowardly sheep farmer backs out of a gunfight, his fickle girlfriend leaves him for another man. When a mysterious and beautiful woman rides into town, she helps him find his courage and they begin to fall in love. But when her husband, a notorious outlaw, arrives seeking revenge,

After a cowardly sheep farmer backs out of a gunfight, his fickle girlfriend leaves him for another man. When a mysterious and beautiful woman rides into town, she helps him find his courage and they begin to fall in love. But when her husband, a notorious outlaw, arrives seeking revenge, the farmer must put his newfound courage to the test. [Universal Pictures]

…

Collapse
Director:

Seth MacFarlane

Genre(s):

Comedy

,

Western

Rating:

R

Runtime:

116 min
Please enter your birth date to continue:
You are not allowed to view this material at this time.
I laughed more at Seth MacFarlane's sendup of '60s Westerns than I did at all the other comedies I've seen this year, combined.

An inventive and caustic comedy that really does look like the thing it's mocking.

The real problem with A Million Ways to Die in the West is one of editing. There are a million jokes in it, but only 500,000 of them are funny.

A Million Ways to Die in the West seems serious about only one thing: its contempt for the gun-crazed macho ethos exalted in countless Hollywood westerns. You might call the movie "Revenge of the Übernerd."

Spiritually, it's closer to a mid-range crowd-pleaser such as City Slickers than Blazing Saddles, too enamoured of genre convention to reach for the comic dynamite.

It's clear what MacFarlane is shooting for — nothing less than the chance to be both the Bob Hope and the Mel Brooks of his generation. Be careful what you wish for.

It's a lifeless, meandering, overlong (116 minutes!) trudge through the oversized ego of its creator, full of wrong-headed humor and inept filmmaking.
This was a great movie i loved it you will to it was s funny i laughed, all the way t o the end it was not a dry eye in the house it will

This was a great movie i loved it you will to it was s funny i laughed, all the way t o the end it was not a dry eye in the house it will be a Emmy award winner

…

Expand

This movie was just as funny as any other movie that I've seen this year. Not the classic that Ted was but I did find myself laughing out loud

This movie was just as funny as any other movie that I've seen this year. Not the classic that Ted was but I did find myself laughing out loud several times. Seth McFarlane just can't get away with as much when he isn't hiding behind an animated character. That is what is the only problem with this movie. I don't imagine we'll see a sequel for this one.

…

Expand

No, no, no. 42 is not fair at all. This is a greater comedy then a lot tried lately. I suppose the low result on Metacritic resides on the

No, no, no. 42 is not fair at all. This is a greater comedy then a lot tried lately. I suppose the low result on Metacritic resides on the expectation left after Ted, a marked beat Seth MacFarlane scored on 2012 (62 on metacritic). For me Seth MacFarlane is the most misunderstood artist after Will Farrel. They are both masters on the art of trying. If you want a more common laugh, ok this is not a movie for you, then again try it, you might like it.

…

Expand

The primary issue with this movie is Seth MacFarlane himself. His character constantly complains about everything and leaves nothing to the

The primary issue with this movie is Seth MacFarlane himself. His character constantly complains about everything and leaves nothing to the imagination. MacFarlane often interrupts funny scenes in the movie only to say something along the lines of, "See? I told you that would happen." Lines like that ruin the humor and flow of the movie. That's not to say the movie is never funny. There are a few scenes that had me cracking up and one in particular that made me cry due to humor overdose. However, these moments of humor are few and far between. Overall it's a very average movie.

…

Expand

While I don't deny Seth MacFarlane's ability to make jokes, because I saw how good he can be as a director in Ted. However, this movie lacked

While I don't deny Seth MacFarlane's ability to make jokes, because I saw how good he can be as a director in Ted. However, this movie lacked any comedic charisma and while seth can be comical, he can't really act well. The main thing that killed the film was that all of the funny jokes had been given away in the trailers, making the movie lose much of the comedy it would have had without trailers. Generally, this comedy was not worth seeing, but hopefully Seth can come back with a much better movie than this poor performance.

…

Expand

It's just not funny - you'd be better off just watching the trailer, which includes all the good parts (but not the undisciplined, excessive

It's just not funny - you'd be better off just watching the trailer, which includes all the good parts (but not the undisciplined, excessive length, the excessive profanity, and the excessive excrement and urine "jokes"). If it were edited to, say, 90 minutes, and those excesses removed, it would rise in my estimation to "just mediocre."

…

Expand

Seth MacFarlane's humor may be funny to some but I find that the constant sexual innuendos and direct commentary was far from being funny.

Seth MacFarlane's humor may be funny to some but I find that the constant sexual innuendos and direct commentary was far from being funny. The movie was disgusting and was the first movie that my wife and I ever walked out on.

…

Expand