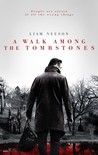 Starring:

Astro

,

Boyd Holbrook

,

Dan Stevens

,

David Harbour

,

Liam Neeson

Summary:

Ex-NYPD cop Matt Scudder (Liam Neeson) now works as an unlicensed private investigator operating just outside the law. When Scudder reluctantly agrees to help a heroin trafficker (Dan Stevens) hunt down the men who kidnapped and then brutally murdered his wife, the PI learns that this is

Ex-NYPD cop Matt Scudder (Liam Neeson) now works as an unlicensed private investigator operating just outside the law. When Scudder reluctantly agrees to help a heroin trafficker (Dan Stevens) hunt down the men who kidnapped and then brutally murdered his wife, the PI learns that this is not the first time these men have committed this sort of twisted crime…nor will it be the last. Blurring the lines between right and wrong, Scudder races to track the deviants through the backstreets of New York City before they kill again.

…

Expand
Director:

Scott Frank

Genre(s):

Action

,

Drama

,

Mystery

,

Thriller

,

Crime

Rating:

R

Runtime:

114 min
Please enter your birth date to continue:
You are not allowed to view this material at this time.
For a good, straight-ahead noirish crime thriller, you could do a lot worse than A Walk Among the Tombstones.

The white hats are stained dark gray as if by ashes and soot. The villains are twisted, cruel, and vile. The heroes aren't much better.

Exciting, in places, though a stranger to subtlety, it ticks all the genre boxes, but there's something about its knowing noirisms that feels superficial rather than soaked-in.

With the combo of Neeson's natural solemnity and his action chops, "Tombstones" treads compellingly amongst lesser thrillers.

The look, style and smarts of A Walk Among the Tombstones seem like such a refreshingly toned-down departure from the outlandishness of Neeson's "Taken" franchise that it's all the more dismaying when the film shifts radically into a sadistic tableau of blood and gore.

All of Scott Frank's thematic concerns are little more than window dressing for a run-of-the-mill detective story in line with '90s thrillers like The Bone Collector.
A Walk Among The Tombstones is a taut, gritty and overall stylish thriller, that is a rare brilliance in book to film adaptations. Liam Neeson

A Walk Among The Tombstones is a taut, gritty and overall stylish thriller, that is a rare brilliance in book to film adaptations. Liam Neeson plays a detective who gets a case to find out the killers of the client's wife, but slowly gets tangled with much more than he expected. The film is very well directed and written, Director Scott Frank did an awesome job with this feature and I want to see it 20 times more. AWATT is a gritty, awesome and excellent thriller that deserves a watch, even if it's for Liam Neeson.

…

Expand

I must say I was worried that Liam Neeson was becoming a typecast actor. Since Taken he has been involved in several action films like the

I must say I was worried that Liam Neeson was becoming a typecast actor. Since Taken he has been involved in several action films like the A-team, Non-Stop and now two sequels to Taken. This role displays his serious side where he portrays a deep character that doesn't have to kill everyone he comes in to contact with in order to entertain the audience. These are the movies that Neeson should be doing now that he is well over 60 years old. Brian Astro Bradley also showed off some acting chops as Neesons young "associate". Astro made a name for himself being a contestant on the X factor but it looks like he may have a promising career in acting. A Walk Among the Tombstones is a great crime film. It really doesn't make you think too hard but it still has some shock value. This movie is certainly one of the underrated 2014 films.

…

Expand

Probably Liam Neeson's best thriller so far! A brilliant dark thriller, that doesn't deserve the 5.8 rating it currently has. No cheesy lines,

Probably Liam Neeson's best thriller so far! A brilliant dark thriller, that doesn't deserve the 5.8 rating it currently has. No cheesy lines, just a great detective hunt. This makes Taken look like a disney movie!

…

Expand

It may look a little "been there, done that", but this particular Liam Neeson thriller takes a bit of a darker turn than some of his previous

It may look a little "been there, done that", but this particular Liam Neeson thriller takes a bit of a darker turn than some of his previous films. The film maintains a rather gloomy and eerie New York atmosphere, kind of like the movie "The Drop", which I reviewed a couple weeks back. Liam Neeson does great as usual. What else can I say? The guy's awesome! While the story did move a little slow, it always felt consistent and played its cards smart. Overall, it certainly doesn't rank among Neeson's best work, but it's still a worthwhile and entertaining mystery thriller.

…

Expand

A better film than expected. It is nothing great, new or groundbreaking. We´ve seen it many times before. But somehow it manages to have

A better film than expected. It is nothing great, new or groundbreaking. We´ve seen it many times before. But somehow it manages to have enough interest and character. It keeps getting better as the film progresses. You´ll have fun watching it. Decent thriller.

…

Expand

From the advertising on this movie this looked to be a very intense thriller similar to last years brilliant Prisoners, much different to Liam

From the advertising on this movie this looked to be a very intense thriller similar to last years brilliant Prisoners, much different to Liam Neesons recent action filled shootout action movies. This movie started off strong with a good premise with a lot of potential to be a tense mystery movie, which slowly went nowhere with bland dialogue and poor pacing with some dull acting all around. The film had some good scenes which broke up the boredom throughout but overall left me wanting more, one of the flaws being that they reveal who is behind the murders around half way through, so it loses all appeal to those wanting a murder mystery movie such as myself. Overall i would say that this movie is okay if you want to watch something to switch off and watch as a straight drama with not much new to offer.

…

Expand

I don't know where to begin in describing just what a bore and snooze fest is the film called A WALK AMONG THE TOMBSTONES. This is one of

I don't know where to begin in describing just what a bore and snooze fest is the film called A WALK AMONG THE TOMBSTONES. This is one of those rare Hollywood films that feels utterly amateurish and inert. The performances are all dreadful with no insight or depth. The story incomprehensible and quite simply dumb. And then there is hulking Liam Neeson slogging through it all. Stay away. Be warned. Unless a really good long nap.

…

Expand