Release Date:

Oct 29, 2003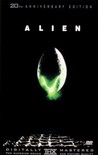 Starring:

John Hurt

,

Sigourney Weaver

,

Tom Skerritt

Summary:

For the first time in nearly a quarter-century, Alien returns to the big screen with a digitally remastered special edition of director Ridley Scott's science fiction/horror classic. (Fox)
Director:

Ridley Scott

Genre(s):

Sci-Fi

,

Thriller

,

Horror

Rating:

TV-14

Runtime:

117 min
Please enter your birth date to continue:
You are not allowed to view this material at this time.
This edition -- clean and tight as Scott would have it -- presents a strong case for Alien as both the greatest horror film and the greatest science-fiction film ever made.

With the visuals and soundtrack given a wax and polish job for the big screen, Scott's masterful use of shadows, framing and sound has never been more terrifying. No matter how many times you've seen this, you'll still be hiding behind your fingers at every conceivable juncture.

This is the breakout role for Sigourney (née Susan) Weaver, whose iconic presence still propels this ride beyond the scores of substandard imitations that followed. Why see it on the big screen? Because it's bloody brilliant.

Despite years of imitators, sequels (some great, some not so), and edited-for-television broadcasts, Alien has lost none of its power, and the big screen only intensifies its impact.

The most important features of this "new" version are the digital cleaning of the print and the re-mastering of the sound. There are a few added scenes, but they are mostly insignificant and have been previously seen (at least by fans of the movie) on the laserdisc or DVD releases.

What's most unusual about the original 24 years later, though, is its elegant minimalism.

Unfortunately, fulfilling an apparent need to assert absolute control over his early successes no matter the cost, the director has gone ahead and loused up his 1979 masterpiece of gothic sci-fi horror.
This film is meticulously constructed, and all of its components fit together almopst perfectly. Creepily paced, wonderfully acted, and

This film is meticulously constructed, and all of its components fit together almopst perfectly. Creepily paced, wonderfully acted, and menaced throughout, Alien is one of the best films ever made.

…

Expand

A classic horror film set in modern time about an expendable crew desperately fighting against a dreadful, unfamiliar human-eater species

A classic horror film set in modern time about an expendable crew desperately fighting against a dreadful, unfamiliar human-eater species inside a spaceship getting lost in space and without support, Ridley Scott's Alien is a marvel of atmospheric tension successfully combined with slow-paced direction (it is easily noticeable that during the whole film, the camera barely moved) that portrays human natural fear of the unknown.

…

Expand

'Alien' is a nearly flawless film; it's thrilling, nerve-racking and visually stunning even by today's standards. The plot is delightfully

'Alien' is a nearly flawless film; it's thrilling, nerve-racking and visually stunning even by today's standards. The plot is delightfully straightforward, but simultaenously layered and intriguing, with pacing brisk enough to keep viewers fully enveloped in the story.
For its time, it subverted the horror genre in an unfamiliar way by being unpredictable and popularised elements that slasher films would later borrow liberally from, all the while crafting a audaciously brave heroine Ripley (Sigourney Weaver). Although Weaver and her character were the breakout stars, there is not one forgettable crew member, from perpetually terrified Lambert (Veronica Cartwright) to Yaphetto Kotto's abrasive Parker.
The true star? HR Giger's iconically designed antagonist: the xenomorph. Ridley Scott's restraint with showing the alien only drums up suspense like Keith Moon awaiting for a prostate exam, and when it is seen in all its horrific glory, it's an unparalleled presence.
The production design of the sets by Michael Seymour. The intricate details of the titular monster by the screenwriters. The visual flair of director Ridley Scott. The performances of Weaver, Hurt et al. Jerry Goldsmith's score. Each crew member deserves individual acclaim for their work in this masterpiece, but unfortunately there's not enough room.

…

Expand

A great classic movie. Heard lots of great things about it, and of course since I am such a big movie fan I would obviously have to check it

A great classic movie. Heard lots of great things about it, and of course since I am such a big movie fan I would obviously have to check it out. Really enjoyed it thought it would be scarier then it was but it didn't scare me. If I watched it when it first came out I would have been horrified probably. Good action and great acting a job well done by Ridley Scott

…

Expand

EXCELLENT
An Amazing mix of Science Fiction and Horror and one of the best movies of both of those genres.
It's the best of its series andEXCELLENT
An Amazing mix of Science Fiction and Horror and one of the best movies of both of those genres.
It's the best of its series and really a film to be remembered as one of the greatest.

…

Expand

Yeah, not really sure this movie needs an introduction, but here it comes anyway. "Alien" is a 1976 Ridley Scott directed Sci-Fi Horror flick

Yeah, not really sure this movie needs an introduction, but here it comes anyway. "Alien" is a 1976 Ridley Scott directed Sci-Fi Horror flick starring Sigourney Weaver as Ripley, a warrant officer on a mining ship that begins to encounter strange creatures. Now, It's hard for me to say that I haven't seen "Alien" up until this point, but it's true so I'll cop to it. After seeing it, I can safely say that everyone I talked to was right - I missed a lot. "Alien" is a really great film, crafted by one of the greatest revolutionary living directors. Ridley Scott really shows his keen ability to develop unbelievable tension through almost every scene. I had to turn down the volume on my television at some points, because I was almost certain that something was going to pop up and scare the seven shades of poop outta' me. But that's the thing, it didn't always happen when I expected it to. This is something that horror movies today seem to fail to accomplish - in a sense, they give away when the jump scares are going to happen. "Alien" really excels at blurring the line between the moments when you're sure a jump scare'll happen and the moments when they won't. The story, written by the legendary Dan O'Bannon is often cited as the influence for numerous other Sci-Fi Horror films and stories. This story is the fulcrum of the film, and O'Bannon's ability to create unending tension via the narrative is really a noteworthy skill. The cinematography and lighting also really helps in creating intense strain on the audience. At one point in the film, it seems as though cinematographer Derek Vanlint uses strobe lights for lighting. This jarring effect, once again, keeps the audience intensely stressed out. The sounds in the film are really very eerie, as the unnerving creaking sounds of the Nostromo and the shrill shriek of the Alien still resonate in my head. Sigourney Weaver does a great job in one of her very first (and arguably most memorable) roles. H.R. Giger's set and costume design really shines in this film, possibly establishing the Sci-Fi Horror aesthetic as we know it. In the end, I found Ridley Scott's "Alien" to be an awesomely frightening film that effectively exudes the overwhelming amount of skill that was placed into it.

…

Expand

This movie can never bee made into a decent film, it will always be pathatic and nothing but fake gore, annoying script and stupid

This movie can never bee made into a decent film, it will always be pathatic and nothing but fake gore, annoying script and stupid scares...awful in every way...no match for "The Descent".

…

Expand